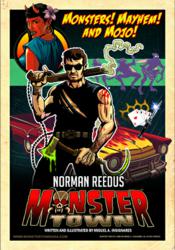 I am excited to be a part of this project...
Tampa, FL (PRWEB) September 12, 2012
Norman Reedus (THE WALKING DEAD) will lend his likeness across all media for the action/horror property, MONSTER TOWN. The announcement was made today by Miguel A. Insignares, the creator of the project and writer / artist of the upcoming MONSTER TOWN comic book.
Set in 1950's Arizona, MONSTER TOWN features Dexter Collins (Norman Reedus), an ex-con, greaser who returns to his hometown after a ten year absence. His attempt at reconciling with his old flame and estranged father are short lived after a mysterious meteorite transforms the local townspeople into ravenous, mutated monsters. When the monsters attack, will the former outlaw be the town's saving grace or its ultimate demise? MONSTER TOWN will take you through the journey.
Mr. Insignares said, "Norman and I have been looking to collaborate for a while and when I showed him the details and visual style of MONSTER TOWN he immediately jumped onboard. This project is a perfect fit for us and the action/horror fan.I am stoked to join forces with Norman and we invite innovative companies who would like to translate MONSTER TOWN into other media such as Television, Film, Animation, and Game Consoles to join us." Norman added, "I am excited to be a part of this project and to watch it grow."
To celebrate the announcement, a Limited Edition Commemorative MONSTER TOWN 14x20 Print featuring Norman Reedus as the monster masher, Dexter Collins, is now available at monstertownusa.com and will be available while they last. In addition, each print will be hand-signed by Miguel A. Insignares; the artist and creator of MONSTER TOWN! Portions from this sale of this item will benefit THE HERO INITIATIVE, a non-profit dedicated to helping comic book creators in need.
The MONSTER TOWN Commemorative Print will ship out in October of 2012 while the official MONSTER TOWN comic book will be released in the fall of 2013. Norman Reedus will serve as Associate Producer through his BIG BALD HEAD production company on all MONSTER TOWN multi-media projects.
For more information on MONSTER TOWN, please visit http://www.monstertownusa.com
ABOUT MIGUEL A. INSIGNARES:
Miguel A. Insignares has provided artistic visualization and creative consultation for over 20 years. His artistic credits include working with comic book icons: CAPTAIN AMERICA, IRON MAN, THE AVENGERS, and G.I. JOE among others. As publisher and writer, he brought 1980's mega-star MR.T back to the limelight by having him tackle modern day issues such as crime in post-Katrina Louisiana. He also published and adapted ZACK SNYDER'S hit zombie film, DAWN OF THE DEAD to comic book form with a print run exceeding some of MARVEL and DC COMICS' titles. That same year, Miguel's artwork was featured in the action film, THE PUNISHER based on the gritty MARVEL COMICS character and starring JOHN TRAVOLTA and THOMAS JANE as the titular character. Recently, in conjunction with several studios and action giant SYLVESTER STALLONE, Miguel designed and distributed collectible products for FIRST BLOOD, RAMBO, and ROCKY BALBOA.
Miguel A. Insignares is currently working on his original comic book, THE RUFNEX which features the fully authorized likenesses of celebrities in the field of Music, TV, and Film as an elite prison group who battle a horde of ravenous zombies for survival on a desolate island. He will follow that project with the comic book, MONSTER TOWN featuring the illustrated likeness of NORMAN REEDUS.
ABOUT NORMAN REEDUS:
Norman Reedus was born in Florida, where he lived only a few months before moving to Los Angeles, California. He also lived in several cities in several different countries including Japan, Britain, and Spain. When he first came to Los Angeles, he worked at a Harley Davidson shop in Venice and at the same time contributed artwork to various shows as a painter, photographer, sculptor, and video artist. He got his first taste of acting in the play "MAPS FOR DROWNERS" at the Tiffany Theater on Sunset Boulevard. Days later, he was cast in MIMIC (1997), then in SIX WAYS TO SUNDAY (1997), and FLOATING (1999).
He then went on to do other films including THE BOONDOCK SAINTS (1999), DEUCES WILD (2002), BLADE II (2002), LET THE DEVIL WEAR BLACK (1999), GOSSIP (2000/I), MOSCOW CHILL (2007), THE NOTORIOUS BETTY PAIGE (2005), and many others.
Norman currently lives in New York with his son, Mingus Lucien Reedus.
ABOUT BIG BALD HEAD:
Big Bald Head is a Production Company created by Norman Reedus. Norman is a multi-talented filmmaker, actor, cinematographer and photographer currently starring in the number-one rated cable show, THE WALKING DEAD.
ABOUT THE HERO INITIATIVE:
The Hero Initiative is the first-ever federally chartered not-for-profit corporation dedicated strictly to helping comic book creators in need. Hero creates a financial safety net for yesterdays' creators who may need emergency medical aid, financial support for essentials of life, and an avenue back into paying work.
MONSTER TOWN is © and TM Miguel A. Insignares. All Rights Reserved.
###