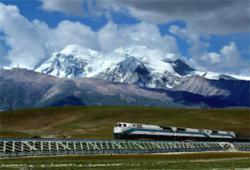 Lhasa, Tibet (PRWEB) September 05, 2012
Songtsan Travel, a Lhasa-based company, now offers train tours to the "Roof of the World." The tours go from Beijing to Lhasa, encompassing famous sites and the unrivalled country scenery of China and Tibet.
The 12-day journey to Kathmandu begins in Beijing. Travelers will have the opportunity to visit Tiananmen Square, the Forbidden City, and spend a full day exploring the Great Wall. The train ride across mainland China takes a full day. Passengers will disembark in Qinghai Province and board the special high-elevation train that will take them across the Tibetan Plateau and over 5,000-meter mountain passes. Travelers will spend a week exploring the sights of Lhasa, Everest base camp, and other Tibetan scenic spots, then travel overland by car to Kathmandu, Nepal.
The 11-day tour features sightseeing in Beijing, and includes a multi-day stop along the train journey in the city of Xi'an, famous for the ancient army of terracotta warriors. The train tour continues to Lhasa, where travelers will explore the city and the surrounding Himalayan scenery, including a trip to holy Lake Namtso.
Songtsan Travel is a licensed international tour operator located in Lhasa, Tibet. They are a team of native Tibetans with their own jeeps, guides and travel crew who work across all areas of the plateau. Part of the agency's income goes to support children's education in Tibet.
"Our mission is to make a traveler's dream of a trip to Tibet into a reality," Songtsan Travel said. "We have more than two decades of experience working as tour guides in Tibet. We understand the land and have explored every corner of the region.
Because foreign travelers are not allowed to travel independently in Tibet, according to Chinese government policy, tours must be arranged by a licensed agency. Songtsan Travel is a full-service tour operator that is uniquely qualified to plan Tibet trips.
Songtsan Travel supports children's education in Tibet through their school project. "We have a dream to serve these needy children to get them a better education and a better life," Songtsan Travel said. "Our ultimate goal is to help children in Tibet, to make it a better place, and to give them the opportunity to make more meaningful and more successful lives. We believe that the purpose of education is to promote morality, and our vision is for every child in Tibet to have a great public education."