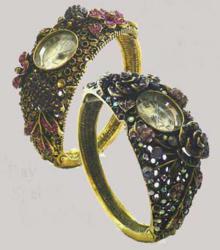 Bangle watch is so easy to put on or remove and is so pretty..
(PRWEB) September 05, 2012
For shoppers who prefer the newest fashions at great prices, Bella Fashion's fall and holiday program is a dream come true, releasing new fashion accessory products each week. September 4 marks the beginning of Week 2 of the program, with bonus deals being offered - a great way to beat the post-Labor Day blues.
In addition to over 80 deal of the week items, the new arrival items for this week's three day special are stylish and current. Fall colors are a defining characteristic of the new Headband with the Gold Tone Hairbow], incorporating amber tones that remind one of descending autumn leaves. Speaking of headbands, adults are not the only ones who can benefit from Week 2's stylish savings - little girl's headbands are also included in this week's picks, in several sweet and colorful varieties. At 50% off, shoppers can get these back-to-school beauties for just $1.50 for retail or 79 cents wholesale.
For those who prefer not to leave their holiday shopping for the final weeks, Bella Fashion's fall and holiday program is a godsend. There's no need to rush out at midnight hours for savings when Bella Fashion offers early holiday shopping and deals of up to 60% off. The luxurious new crystal bangle watch is the ideal gift for any girl who loves antique or vintage-looking accessories, offering timeless elegance for a 3 day special price of $14.50. Glittering new barrettes will make superb stocking stuffers, as will the glamorous rhinestone jaw clip with hematite stones at 50% off. Shoppers looking to go all out for that special someone this holiday season can consider the elegant three piece set with an intricate floral and leaf design featured on a necklace, bracelet, and pair of drop earrings.
Next week, items on special will include dazzling hair combs with glittering rhinestones and butterfly and floral designs. More new watches, barrettes, hair sticks, and necklaces will be arriving for September 10 through September 12, with more excellent three day special prices.
About Bella Fashion Jewelry, Inc.
Bella Fashion Jewelry is a leading provider of fashion jewelry and fashion accessories to help customers stay up to date with the latest fashion trends. Bella Fashion Jewelry has been in the business of fashion jewelry and accessories for over 21 years. Bella Fashion Jewelry has been helping thousands of customers worldwide stay up to date with the latest fashions trends. Bella Fashion Jewelry is owned and operated out of Hayward, CA. To learn more about the fashion jewelry and accessories available from Bella Fashion Jewelry, please visit http://www.BellaFashionWholesale.com.