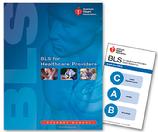 CPR saves lives.
San Jose, CA (PRWEB) September 07, 2012
San Jose CPR Certification is an American Heart Association Training Center located in San Jose, CA that provides AHA CPR, BLS, ACLS, and First-aid certification courses to the residents of Santa Clara County. Many people are required to take the AHA BLS for the Healthcare Providers CPR class including EMTs, dentists, nurses, nursing assistants, phlebotomists, physical therapists, and others in the medical and healthcare field. The American Heart Association BLS for the Healthcare Providers CPR class is about 4.5 hours long and continuing education credits are issued to dentists.
Before registering and taking the BLS course, it is recommended to study the skills of adult, child and infant CPR, chokesaving, how to use an AED (automated external defibrillator), how to use a CPR pocket mask, and how to use a bag valve mask. The BLS certification card is valid for two years, so it is a good idea to study before the renewal course. San Jose CPR Certification provides BLS renewal and BLS certification courses in Santa Clara County and also provides a Free San Jose BLS Study Guide.
San Jose CPR Certification is an official American Heart Association BLS Certification Training Center (license # CA-20784) which means the BLS certification cards can be issued on the day of the class, as opposed to other BLS training schools who must mail out the cards. Also students are not required to pay for the training until the day of the course. San Jose CPR Certification offers the lowest prices in Santa Clara County for American Heart Association BLS classes and is backed by the Low Price Guarantee.
The American Heart Association strongly promotes knowledge and proficiency in BLS, First-aid, ACLS, and PALS and has developed instructional materials for this purpose. Use of these materials in an educational course does not represent course sponsorship by the American Heart Association, and any fees charged for such a course do not represent income to the Association.
Register today for an American Heart Association BLS Class in San Jose or call for more information at (408) 724-9985.