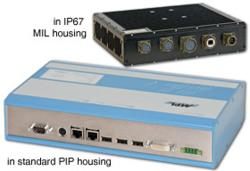 Extreme Rugged Industrial PC for high temperature environments
Dättwil Switzerland (PRWEB) September 07, 2012
MPL expands the line of Embedded Industrial Computers with a new member. The heart of this new PIP6-11 is the Intel® Atom™ Z530P CPU, allowing to operate the system from -20°C to +60°C and optional even from -40°C to +75°C, without throttling or the need of a fan. The PIP 6-11 is certainly a maintenance free design for 24/7 operation, even with high temperature, vibration, and in shock environments. The product family comes in three housing heights as well as in a IP67 housing.
Outstanding features are:

Internal 9-36VDC industrial power supply
Reverse polarity and brownout protection
Performance with very low power consumption
Wake-on-LAN functionality for system startup
from a central point of the network

Very high system availability and data security
Solid-State Drive (SSD) up to 480GB,
or 100GB extreme harddisk (-30 to +75°C)

Front LED indications for efficient diagnosis
High flexibility with on-board interfaces
5 Gigabit Ethernet ports
7 Hi-Speed USB 2.0 ports
2 RS232 ports
1 miniPCIe slot
High flexibility expansion options
PCI-104 interface to install up to 4 expansion
cards (up to 8 RS232/485, digital I/Os, etc.)

CAN, Profibus....
High flexibly with 3 different housing sizes 62, 83, and 120mm, plus IP67 housing for tough applications
and harsh environments

High grade industrial design for 24/7 operation and -40°C to +75°C environment temperature
Completely maintenance-free operation without fan (battery free operation is possible)
Full metal housing with best EMI tolerance
High vibration and shock capabilities
Dust protected
Extended temperature option -40°C to +75°C
(with Intel wide temperature CPU up +85°C)

Optional coating and bonding available
The PIP6-11 has been designed and developed in Switzerland based on more then 27 years company tradition and a huge know-how in lowest power consumption and extended temperature operation. According to the company logo "MPL High-Tech • Made in Switzerland" all products are 100% manufactured and assembled in Switzerland by MPL AG.
About the Company
MPL AG is located in Switzerland in the town of Daettwil near Zurich. It was founded 1985 by Rudolf Hug. Since 1985, MPL AG has been developing and manufacturing industrial PCs (boards and systems) for tough industrial needs and industrial controls with highest quality standards. The success of the company is based on various unique solutions: a rugged, PC compatible industrial concept, long-term availability of our products, low power consumption, extended temperature range, and passive cooling concepts (fanless).