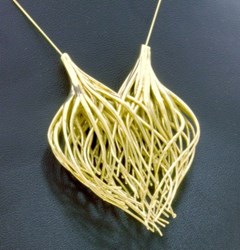 This technology is affordable, compact and provides a trend-setting manufacturing solution to the watch and jewellery industry
Hong Kong (PRWEB UK) 5 September 2012
Cookson Precious Metals (CPM) will showcase a prototype of a small Additive Manufacturing (AM) metal system at the Hong Kong Jewellery and Gem Fair 2012, hall 11, stand 11V28.
The system, PRECIOUS M 080, is designed around the needs of the international watch and jewellery industry.
It is the first time that the worldwide established supplier for the precious metal industry has been present at the show.
Stella Layton, CEO of Cookson Precious Metals states: "For this technology, we have joined forces with EOS, market leader for design-driven, integrated e-manufacturing solutions for Additive Manufacturing (AM) applications.
"With this technology, 3D bespoke jewellery and watch components can be created from CAD files. This takes us on an exciting journey permitting the creation of highly complex and intricate designs that weren't thinkable before.
"The particular beauty of Additive Manufacturing is that it can be used to produce both one-off pieces as well as large scale production eliminating many process steps and tooling costs that we see today.
"This technology is affordable, compact and provides a trend-setting manufacturing solution to the watch and jewellery industry."
Hong Kong Jewellery and Gem Fair is one of the most prestigious shows in the precious metal industry worldwide. Here, CPM meets companies from all over the world who travel to this innovations and technology hub in search of 'what's new'. This is the new manufacturing process of tomorrow, available today.
As a leading supplier of fabricated precious metals - primarily gold, silver, palladium and platinum – Cookson Precious Metals has a reputation for high quality products and services, as well as for developing a close working relationship with customers.
Although European based CPM supplies the global precious metals marketplace, and is driving growth through digital selling via its internet sites.
Just recently, CPM signed a strategic development partnership with EOS. Under this agreement, both companies introduce and further develop precious metal-based applications to the jewellery and watch industry.
Product and services offerings will range from the production of precious metal parts to consulting for a Direct Metal Laser-Sintering (DMLS)-driven design process, the development and production of special precious metal alloys and the installation of a bespoke solution chain for high volume jewellery production.
To begin with, CPM offers AM capacities enabling a production of designs made of 18 ct yellow gold (3N colour).
Dr. Adrian Keppler, Executive Vice President Strategy and Business Development at EOS states: "With CPM we found a perfect partner to introduce our innovative and paradigm shifting technology to the luxury goods industry.
"We truly believe that our AM process offers a huge potential for these industries. Compared to conventional manufacturing techniques it paves the way for a completely new approach towards design and manufacturing. This is what we call 'Design-driven manufacturing'.
"The technology offers a freedom of design the industry has long been searching for. The most demanding jewellery brands can now create entirely new products and geometries that still meet their high quality requirements.
"The technology challenges designer's imagination and pushes it to the next level."
Both EOS and CPM envision customized solutions that will change the economics of making jewellery or watches.
The technology time lowers the general costs of entry into the business of making quality jewellery and watch parts in precious metal. As such, e-manufacturing with DMLS enables designers to produce pieces that do not have to deal with the boundaries of conventional production techniques.
ENDS
Notes to Editors
About Cookson Precious Metals
Cookson Precious Metals (CPM) is a leading supplier of fabricated precious metals in Europe, a supplier of gold, silver, platinum and palladium alloys, wire, sheet, tubing, coin blanks and casting grain. Cookson is also a major precious metals refiner with London Bullion Market Association good delivery status. For more information visit http://www.cookson-emanufacturing.com.
About EOS
Founded in 1989 and headquartered in Germany, EOS is the technology and market leader for design-driven, integrated e-Manufacturing solutions for industrial applications. EOS offers a modular solution portfolio including systems, software and materials and its further development. The portfolio is completed by Services like maintenance, training as well as specific application consulting and support. An Additive Manufacturing (AM) process allows the fast and flexible production of high-end parts at a repeatable industry level of quality. This disruptive technology paves the way for a paradigm shift in product design and manufacturing. It accelerates product development, offers freedom of design, optimizes part structures – also enabling lattice structures – and functional integration and as such creates significant competitive advantages for its customers. For more information visit http://www.eos.info.
If you are interested to set up an interview at the show please contact either of the below to set up a meeting.
Contacts
Cookson Precious Metals
David Fletcher
European Product Manager
Phone: +44 797 11 126 18
e-mail: david.fletcher (at) cooksongold (dot) com
EOS Electro Optical Systems GmbH
Claudia Jordan
Group Manager Marketing Communications
Phone: +49 (0) 89 893 36 2134
e-mail: claudia.jordan (at) eos (dot) info