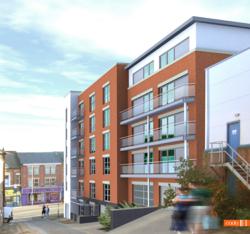 The private rental sector now houses 3.6 million households.
(PRWEB UK) 7 September 2012
A new-build project in the heart of Sheffield, West Bar is a contemporary 46-unit development comprised of studios, 1 and 2-bedroom apartments, starting from as little as £63,000.
Located in an area of huge regeneration, West Bar is a typical example of the new-generation rental properties currently provided by the private sector, in response to the current lack of adequate housing throughout the UK.
According to a recent report by Sir Adrian Montague, 'the private rental sector now houses 3.6 million households' due to the 'widening gap between housing supply and household growth'.
Couple this with the knowledge that the 'Bank of England figures suggest mortgage lending fell to its lowest level in 18 months in June this year' [Knight Frank, Residential Market Update August 2012 Report], and it is apparent that the private rental market is beginning a slow and steady rise back to being one of the top performing asset classes in the country.
West Bar
The perfect buy-to-let investment for local residents or city workers, this development is also ideal for foreign students as an alternative to the option of shared facilities in private accommodation or halls of residence, due to the close proximity of both the University of Sheffield and Sheffield Hallam.
Handled by Shefflets, Sheffield's premier lettings and management agency, investors can be reassured by the excellent rental rates, estimated at starting from £500 for a studio apartment, leading up to £750 for a 2-bed room with balcony, and predicted gross yields of up to 10% from year 1.
Decorated to the highest of standards with double-glazed UPVC composite windows and French Doors (where applicable), the apartments are currently supplied unfurnished, with furniture packs available at an additional cost upon request.
Within a ten minute walk of the city centre and all local conveniences, West Bar is also close to all major public transport links both into and out of the city.
As the Council of Mortgage Lenders reports that mortgage lending 'across the board has roughly halved since 2006/07', the opportunity for individual investors to diversify their portfolios into the UK rental market has risen, with properties like West Bar offering an affordable entry to popular regional markets.
Knight Knox International
Market leaders at selling investment and lifestyle property in both the UK and overseas, Knight Knox International are specialists at selling property to the private investor market, gaining exclusivity on the majority of its projects, through long-standing and hard-won relationships with renowned developers and contractors.
To enquire about the West Bar development, or for further information on the full range of properties available through Knight Knox International call +44 (0)161 772 1370.