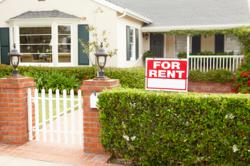 Using a Rent to Sell option is becoming a popular way for landlords to manage their portfolios
(PRWEB UK) 17 September 2012
Terry, an experienced Personal Property Agent and landlord knows full well how demanding some tenants can be: "Although on paper, income from rental after mortgage payment can seem healthy, leaking pipes or a boiler blow-up will soon dispose of that."
Regularity of payments can be variable and even though interest rates seem to be holding steady, some lenders are starting to increase their SVR's meaning the going could get even tougher for landlords.
For many there is a dread of the property 'void' where houses and flats sit empty between tenants, and like any increase in mortgage rates this can be a cost that can be increasingly hard to absorb.
Terry explains how landlords can restructure their portfolios to increase income and minimise the hassle factor:
"Using a Rent to Sell option is fast becoming a popular way for landlords to manage their portfolios, mitigate Capital Gains Tax liability and help first time buyers onto the property ladder. There are also many available credible buyers that qualify for a rent to buy scheme that can't get a mortgage today but want to buy long term.
"A typical agreement will be over three to five years with an up front non refundable payment of 3 - 5% paid to the landlord, plus monthly payments. Those renting to buy will move in and 'manage' the property as owners, leaving the landlord with more time, more income, no voids, an agreed sale in the future and one less property headache."
Terry continues: "Landlords can do this without any extra cost and we have thousands of prospective buyers on our lists at renttobuy.co.uk so now is a great time for landlords to review their options."
Terry specialises in the sell fast, rent to buy, rent to sell and 'property as an investment' markets. For more information contact Terry Brooker on 01206 589980, email terry.brooker(at)personalpropertyagent(dot)com or visit the website http://www.greenshootsproperties.co.uk