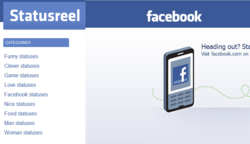 San Francisco, CA (PRWEB) September 06, 2012
Statusreel, an online company specializing on Facebook tools, has decided to add spice to the game by launching a Facebook widget capable of tracking down people's statuses. This Facebook app came from a single idea that has been carefully developed by Statusreel's team of dedicated developers. Anyone can use Statusreel—especially those professionals who are looking for cost-cutting measures when it comes to their online marketing campaigns.
Statusreel's latest application thrives with the hidden connecting power of the Facebook status. Everyday, an individual has the potential to post many Facebook statuses, depending on his mood or experiences. The usage of Statusreel is simple; the user must input a word or a group of words in Statusreel's search bar. After that, the Facebook app will display the profiles of those people who used the same words. Now, the user can befriend these people or send out important messages to them. A Statusreel user can make new friends in just seconds or minutes.
Statusreel can also be embedded in a blog or website. Currently, the user can select the color and size of the Facebook widget. The default style of the Statusreel widget is similar to the style of Facebook—some users have referred to the application as 'Facebook's twin.' Once embedded in any website, visitors can now try out the searching power of the Statusreel application. They can also expand their Facebook horizons with ease.
The best Facebook status can also be found by searching through Statusreel. Everyday, the possibilities are endless because people are using different statuses. Statusreel also has a wide array of statuses that can be copied or explored. The application's funny statuses often bring a chuckle to visitors who are looking for more information.
About Statusreel
Statusreel.com is a product designed to give end-users an instant amount of Facebook statuses in real-time. Users can search via keyword or by subject matter to see what chatter is taking place publicly on Facebook and the web. Statusreel also allows websites and blogs to embed a Facebook status widget directly into their site. Statusreel is a web-based Facebook tool that is 100% free.