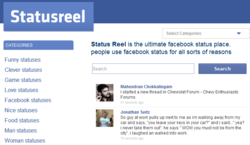 Cambridge, MA (PRWEB) September 06, 2012
Facebook, the most famous social networking site of today, is full of applications, games, groups, and pages that anyone can discover. This is the reason why the average individual spends long hours of Facebook surfing everyday. Operating on this fact, the Statusreel team has launched a handy micro-application that utilizes the power of Facebook statuses—little words or sentences published by Facebook users everyday. The Statusreel dev team believes that through Facebook statuses, relationships can be made and strengthened as a whole.
Statusreel operates on a simple mechanism: people can visit the Statusreel website, type something in the featured search bar, and see the profiles of people who used the same words in their statuses. Any significant word will be included in the list. This is useful for online marketers who are building a subscriber base from scratch. The profiles of people can also be explored, and searchers can now send out invitations. Users can also explore Statusreel's wide collection of Facebook statuses. These statuses are collected from many people across the world, and are updated on a regular note.
Based on the research of the Statusreel team, the funny Facebook status has a high popularity rate. This is why Statusreel has an array of funny statuses that can be copied by all users from across the world. It has been observed that funny statuses attract more people compared to statuses that are related to politics and current events; this is a social media marketing strategy used by online marketers today. Statusreel can also be embedded to a blog or website to improve its online visibility.
The Statusreel team believes that Facebook statuses are not just created for nothingness. As a start, these statuses depict the everyday feelings of people. Now, Statusreel provides a way for people to utilize statuses as 'lead generators' and friend trackers. In the coming months, the Statusreel team is vying for platform developments to make the Facebook widget run faster than ever.
About Statusreel
Statusreel.com is a product designed to give end-users an instant amount of Facebook statuses in real-time. Users can search via keyword or by subject matter to see what chatter is taking place publicly on Facebook and the web. Statusreel also allows websites and blogs to embed a Facebook status widget directly into their site. Statusreel is a web-based Facebook tool that is 100% free.