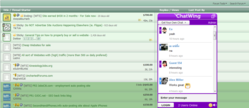 Chicago, IL (PRWEB) September 06, 2012
Forums are considered as one of the best types of online communities today. In general, there are thousands of forums out there—each forum delving into a specific niche or topic. There are also some forum creator sites that allow people to manage their own forums with ease. Realizing the growth potential of online forums, the Chatwing Development Team has introduced a website chat box that can provide a stream of communication between forum makers and their visitors.
Gaming forums comprise a large part of forum communities as a whole. Through these forums, gamers can now share their experiences about their favorite games. They can also share important tips and walkthroughs to other players. By utilizing Chatwing's free shout box, forum makers can reach many people within a short amount of time. This will make the forum famous after continuous usage. Chatwing's chat app also has a high level of customization; users can edit the color, size, and title of the widget. In this way, many people will be enticed to use the chatroom.
The Chatwing chatbox has also been introduced to blogging sites, emphasizing its versatility. Bloggers who have used the Chatwing app experienced bouts of visibility for their blogs. These rates of visibility vary, depending on the content of the blog. Chatwing's free chat box also allows users to add unlimited number of shout boxes and moderators. Because of these new and useful features, the Chatwing app has become widely recognized.
As long as there are niches, the Chatwing team is confident that forums will never die. Forums are simple ways of relaying information, and the Chatwing team wants to enhance such ways by providing efficient connectivity. To keep users updated, the Chatwing team is currently maintaining a Facebook page filled with informational content.
About Chatwing.com
Chatwing.com specializes in the new field of website chat. Over years, the Chatwing team has introduced live chat widget for hundreds and thousands of blogs. The Chatwing application bridges people from many parts of the world, creating global synergy through the Internet. The shout box can be installed in just seconds, and it can be used for varying purposes such as leisure and Internet marketing. It also allows a user to customize the size, color, and name of the widget. Chatwing is 100% free for everyone.