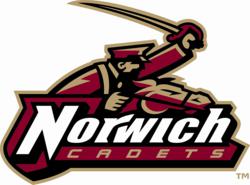 Northfield, VT (PRWEB) September 05, 2012
Norwich men's ice hockey coach Mike McShane announced his class of 2016 recruits on Tuesday.
Four new faces will join last year's national semifinalist squad that went 24-3-2 and won an unprecedented 14th straight ECAC East regular season title.
Three forwards and one defenseman make up the incoming freshmen class that will be looking to make it back to the NCAA Frozen Four for the fourth straight time and 11th appearance overall in McShane's 18 years at the helm of the program.
Two of the forwards are from Massachusetts while the other hails from Canada and the lone defenseman comes to Vermont all the way from Sweden.
Matt Baldino (Woburn, Mass.) is a 5-foot-6, 170 pound forward that played at Lawrence Academy in the New England Prep School League. He scored an even 16 goals and added 16 assists for 32 points in 31 games played.
"Matt is a fiesty, tough forward that is a good checker and a good competitor," McShane said. "He played on a good team at Lawrence Academy that ended up winning the Division I prep school championship. He's got a great nose for the game and he'll add some offensive punch while still being a two-way player."
Ben Morgan (Calgary, Alberta) is a 5-foot-10, 165 pound forward that played for the Notre Dame Hounds of the Saskatchewan Junior Hockey League (SJHL) the last two seasons. He scored 18 goals and tallied 18 assists for 36 points in 57 games. He also added six power play goals for the Hounds.
"Ben has a lot of speed and can play center or right wing for us," McShane said. "He's a good playmaker that should see action early."
Dean Niezgoda (Brewster, Mass.) is a 5-foot-11, 200 pound forward that played for the South Shore Kings of the Eastern Junior Hockey League (EJHL). He scored 17 goals and picked up 29 assists for 46 points in 45 games played.
"Dean is a real hard worker with a physical aspect to his game," McShane said. "He's an excellent checker and a two-way player that can also score some big goals here and there."
Erik Lyrvall (Falun, Sweden) is a 6-foot-4, 216 pound defenseman that played for the Wilkes-Barre Scranton Jr. Knights of the Atlantic Junior Hockey League (AJHL). He scored four goals and tallied 24 assists for 28 points, which ranked sixth out of all defensemen in the league.
"Erik has the ability to step in and contribute offensively and defensively for us," McShane said. "He has a lot of size, strength and athleticism that should definitely give us a boost in the defensive zone and we lost a few strong defensemen to graduation."
Norwich University is a diversified academic institution that educates traditional-age students and adults in a Corps of Cadets and as civilians. Norwich offers a broad selection of traditional and distance-learning programs culminating in Baccalaureate and Graduate Degrees. Norwich University was founded in 1819 by Captain Alden Partridge of the U.S. Army. Norwich University is the oldest private military college in the United States of America and the birthplace of our nation's Reserve Officers' Training Corps (ROTC). http://www.norwich.edu