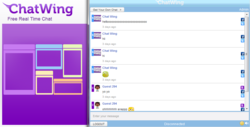 Houston, TX (PRWEB) September 07, 2012
The Chatwing Team has laid an opportunity for Ucoz bloggers by introducing a free chat box with simple but useful features. The recent Chatwing app is capable of social media integration, improved blogger-visitor connection, easy installation mechanism, versatile form factors, and high rate of customization. Additionally, the Chatwing chat tool can also be used for different purposes.
Company bloggers, for example, can utilize Chatwing's free chatbox to provide a way of interaction for thousands of visitors. Now, visitors can discuss a company's products and services thoroughly. Other than that, the visitors can post their inquiries, suggestions, and opinions in the Chatwing chatroom. As part of the package of new features, the Chatwing chat app can accommodate a maximum of one thousand users. This raises the chance of connectivity, and allows everyone to enjoy moments of interesting discussions. When it comes to installation, the Chatwing app can save a lot of time. Users just need to register their blogs' domain names, set up the chat app style they want, and customize how the shoutbox will appear to their visitors.
Chatwing users can select from three form factors upon installation; this makes the free shout box highly flexible, suiting the preferences of many users. The three form factors are: actual shoutbox style, pop-up window, and direct link option. The direct link option is the newest style, making the shoutbox more mobile-friendly and accessible in many cases. The Chatwing team has observed that many people have relied on the direct link option because of the privacy that it can offer. The direct link allows users to create their unique shortlinks, and send them over to their friends and acquaintances. One of the main purposes of the direct link option is 'centralized' and private group communication.
Chatwing developers believe that blogging is one of the best ways to relay information within a definite amount of time. Blogging is supposed to be fast, and the Chatwing chatbox can ease up any interaction process between bloggers and visitors. To cope with the ever-changing field of blogging, the Chatwing team is planning to introduce more upgrades to the shoutbox.
About Chatwing.com
Chatwing.com specializes in the new field of website chat. Over years, the Chatwing team has introduced live chat widget for hundreds and thousands of blogs. The Chatwing application bridges people from many parts of the world, creating global synergy through the Internet. The shout box can be installed in just seconds, and it can be used for varying purposes such as leisure and Internet marketing. It also allows a user to customize the size, color, and name of the widget. Chatwing is 100% free for everyone.