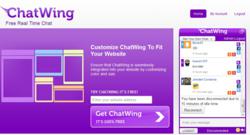 Houston, TX (PRWEB) September 08, 2012
Engaging web surfers and openly interacting with blog readers ensures the blog's traffic increase, according to Chatwing dev team's research. Web surfers today are more into sensible interaction than passive activities—the reason games and forums are gaining popularity across the Web. Blog platforms like, Livejournal with its growing numbers of users is, one proof that people are becoming active online. To facilitate the exchange of ideas, interests and opinions, Chatwing team developed a free chat box that can provide a more dynamic platform for online interaction.
One of Livejournal's unique features is the friend's list which enhances bloggers' social connection. Installing a free chat widget to a Livejournal blog provides bloggers a reliable platform to communicate real time and sustain a more interactive online relationship. Chatwing chat tool can be easily installed by anyone and in just a few seconds. Livejournal blogger can also alter the chatbox in a lot of ways. Users can tinker with the chat app's colors and sizes- from the widget to the fonts. For bloggers who are familiar with the CSS system, they can come up with a more unique chat widget through CSS customization.
In terms of social connectivity, Chatwing chat app has social media integration option that makes contact with Facebook and Twitter users easily. Bloggers who also have Facebook and Twitter can use Chatwing free shoutbox in engaging their readers and adding them to friend's list to achieve an improved online presence. With Chatwing's social sharing feature, a user can make his social account active by posting worthwhile chat conversations from the chatbox to his Facebook wall.
Chatwing's new chat box can handle hundreds of users at the same time, perfect for blogging communities like Livejournal. Yet, this chat application is made flexible enough to allow group chats through its direct URL link feature. Cool avatars and cute emoticons are also available for a more expressive communication.
About Chatwing.com
Chatwing.com specializes in the new field of website chat. Over years, the Chatwing team has introduced live chatbox for hundreds and thousands of blogs. The Chatwing application bridges people from many parts of the world, creating global synergy through the Internet. The shout box can be installed in just seconds, and it can be used for varying purposes such as leisure and Internet marketing. It also allows a user to customize the size, color, and name of the widget. Chatwing is 100% free for everyone.