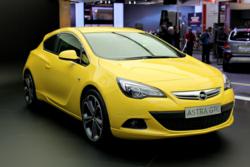 Ellesmere Port is growing and expanding... This growth presents great opportunities for business start-ups.
(PRWEB UK) 7 September 2012
Data gathered from Companies House and analysed by Duport.co.uk has revealed that Ellesmere Port has seen a record number of new company registrations during the last quarter. There have been 58 new companies formed, more than any other second quarter on record for the area. The figure comfortably beats the previous second quarter record of 46 that was set in 2011.
The economy of the area received a boost back in April, when General Motors announced that the next generation of its Astra model will be built at the local Vauxhall factory. The factory employs 2100 people and built 140,000 cars last year.
Further good news for Ellesmere Port comes in the form of the flagship Marks and Spenser store that was opened last week. The shop is the size of 11 Olympic swimming pools and is based around a new concept that aims to merge the physical and online shopping experience. Customer assistants carry iPads to help shoppers find and order products they want. Browse and Order screens allow customers to search the entire M & S catalogue in-store and have products delivered to their local store for free.
Managing Director of Duport.co.uk, Peter Valaitis said:
"Ellesmere Port is growing and expanding, with new homes and shops being built at a rapid rate. This growth presents great opportunities for business start-ups, so the record number of new company formations in the last quarter comes as no surprise."
Duport Associates Ltd is a leading UK company formation agent, operating in the UK for around 15 years. Duport registers around 10,000 new companies each year using its Companies House approved software. The Company Register which is maintained by Companies House contains public information about Limited companies and directors.