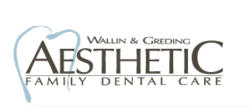 Mesa, AZ (PRWEB) September 06, 2012
The inconvenience posed by the need for unexpected dental care is one that people everywhere try to avoid at all costs. In fact, the National Institute of Dental and Craniofacial Research (NIDCR) reports that 12% of adults aged 20-64 have not been to the dentist within the past 5 years. Unfortunately, a chipped tooth, cracked filling, or severe pain can't always be put off. Customers seeking care can benefit from the same day emergency appointments offered by the dentists Mesa at Aesthetic Family Dental Care. With two seasoned dentists and a large team of experienced hygienists, patients can always expect to receive the highest level of comfort and care.
Those seeking an emergency dentist can take comfort in the inviting atmosphere, friendly staff and wide range of services which can be performed. While cosmetic services and simple check-ups and cleanings may be scheduled into the future, those in severe pain or discomfort can take advantage of receiving service the very day that they call to schedule an appointment. Common same-day services include but are not limited to root canals, fillings, and extractions.
Customers can also find added value in an online coupon for $50 off emergency treatment, which can be printed conveniently on the Aesthetic Family Dental Care website. New and current patients seeking a Gilbert dentist for same day emergency care can view information regarding services, office hours, and the necessary patient forms online, and are asked to call the office to request an appointment.
About Aesthetic Family Dental Care
With an inviting office, friendly staff, experienced doctors, and state-of-the-art tools and equipment, Aesthetic Family Dental Care is easily identified as one of the best dental offices in Mesa. Both Dr. Wallin and Dr. Greding have degrees from reputable dental schools and have been honored as Top Dentists by Phoenix Magazine four years in a row. With services ranging from innovative one hour crowns and cosmetic dentistry to dentures and typical dental procedures, Aesthetic Family Dental Care is who to trust when you need dental care services.