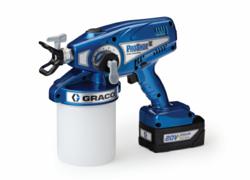 The ProShot II cordless sprayer delivers what painting professionals asked for – a faster, easier way to spray small jobs without compromise in quality and performance
Minneapolis, MN (PRWEB) September 05, 2012
Graco Inc. (NYSE: GGG) today announced the launch of the ProShot® II cordless airless handheld sprayer. The new ProShot II professional paint sprayer includes features that make spraying small interior, exterior and specialty jobs faster and easier. The new, next generation of Graco's handheld sprayers saves time and materials with maximum performance, reliability and professional quality finish and results.
"The ProShot II cordless sprayer delivers what painting professionals asked for – a faster, easier way to spray small jobs without compromise in quality and performance," said Kate Grathwohl, Graco Contractor Equipment Division (CED) Worldwide Product Marketing Manager. "The ProShot II sprayer delivers on performance and quality results. Jobs that used to require using a large airless sprayer now take only minutes to complete from set-up through clean-up. The feedback we are getting from the pros is that the ProShot II handheld is a must-have tool to complete their small painting jobs."
The new ProShot II sprayer features the ProControl™ Pressure Control System (variable pressure: 1000 – 2000 psi) that allows users to adjust the pressure to spray thin and thick materials and covers a wider variety of applications. This feature allows more control and reduced overspray at lower fluid pressure while enabling a higher production rate with thicker materials. The ProShot II sprayer also features the new Tilt- n-Spray Pendulum Suction Tube for a full range of motion while spraying up, down and sideways, just like a professional Contractor™ gun, while evacuating all of the material from the cup for fewer refills and more productive spray time. The new ProShot II sprayer is ideal for walls, ceilings, trim, doors, siding, garage doors, fences, shutters and decks.
The new ProShot II sprayer features patented and patent-pending ProSpray technology. "This technology delivers professional spray results in the palm of your hand and makes every project fast and easy from set-up through clean-up," Grathwohl said.
The fully-repairable ProShot II cordless sprayer is available exclusively at Sherwin-Williams and supports .011 - .017 ProShot reversible tips. Included with the sprayer is a 515 ProShot Reversible Tip, 32-ounce Tilt-n-Spray Material Cup, two 20V Lithium-Ion battery packs, Pump Armor™ storage and start-up kit, pump repair kit, Sherwin-Williams® Color to Go® Adapter, Sprayer Storage Case, and more.
For more information on the Graco ProShot II cordless airless handheld sprayer and all Graco paint sprayers please visit http://www.graco.com/contractor. Here you can find store locations, spraying tips, sprayer specifications and accessories included with each sprayer, features, benefits and usage recommendations.
About Graco:
Graco Inc.'s Contractor segment designs and markets sprayers to apply architectural coatings such as paints, stains and texture materials as well as sprayers for line striping and pressure cleaning applications. The segment supplies products through a worldwide network of distributors that sell to homeowners, trades people and contractors in the painting, roofing, texture, corrosion control and line striping markets. Graco has earned the annual Frost & Sullivan United States Paint Contractors' Choice award for "Overall Best Brand of Spray Equipment" since its inception in 2007.
Graco Inc. supplies technology and expertise for the management of fluids in both industrial and commercial applications. It designs, manufactures and markets systems and equipment to move, measure, control, dispense and spray fluid materials. A recognized leader in its specialties, Minneapolis-based Graco serves customers around the world in the manufacturing, processing, construction, and maintenance industries. For additional information about Graco, please visit us at http://www.graco.com.
###
Media Contacts:
Jodi Ehlers Swanson
612-623-6217 or jswanson(at)graco(dot)com
Kathleen Crandall
612-327-6336 or kathleen(at)crandallcommunications(dot)com