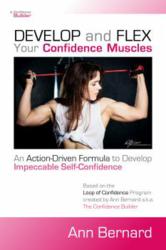 New Orleans, LA (PRWEB) September 06, 2012
Ann Bernard, also known as The Confidence Builder, has released a new ebook titled "Develop and Flex Your Confidence Muscles" based on her five week self-confidence development course The Loop of Confidence. The ebook enlightens readers to the truth of what self-confidence is and isn't and what it takes to develop impeccable self-confidence.
People know confidence is the key to success but don't understand why because self-confidence and self-esteem have been clumped together for too long. Self-confidence and self-esteem are not the same and the focus on self-esteem has lead to a society suffering from inflated self-esteem, entitlement mindsets, and bullies. The time for self-confidence development to be a priority is now.
Develop and Flex Your Confidence Muscles begins by making the distinctions between self-esteem and self-confidence and self-confidence and arrogance; traits often confused for each other. Next, the reasons why self-confidence is the key to success are clearly outlined and explained. Clarifications to why the concept "fake it till you make it" does not lead to self-confidence is also included. The remainder of the ebook focuses on the key elements required to develop impeccable self-confidence to include chapters titled: Complete Self-Awareness, Master Your Thoughts, Confronting Your Comfort Zones, and Facing Your Fears.
Authored by Ann Bernard, Confidence Builder, Entrepreneur, Women's Physique Competitor and Major USMCR; the ebook is based on The Loop of Confidence and makes analogies between developing self-confidence and developing muscles; a concept more common to readers. Much like developing muscles, developing impeccable self-confidence takes hard work and a commitment to the process. For example, Ann compares plateaus in training to comfort zones in life, where the muscles, like people, stop growing and progressing. In both instances, change is the key to experiencing new results.
It's time to have a better understanding of what self-confidence is and what the benefits are to possessing impeccable self-confidence; the kind of self-confidence that is not rooted on looks, wealth, material things, title or affiliations but rather real trust and belief in oneself.
Everyone comfortably settled within their comfort zones avoiding change and risks are welcomed to rush over to download the ebook; along with people making excuses for their lives, those filled with self-doubt and those afraid to be themselves. Anyone ready to live to their potential has found the answer to reaching their potential. Find out more and download the book.