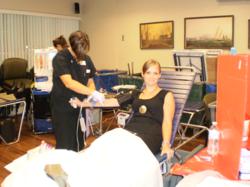 "I was so pleased with the turnout for our annual blood drive. The David Lerner Associates employees are eager to help whenever they are asked."
Syosset, NY (PRWEB) September 05, 2012
David Lerner Associates, a financial investment company, recently hosted a blood drive in partnership with the New York Blood Center at their corporate headquarters in Syosset, NY.
The blood drive drew 28 registered donors, all of the them employees of David Lerner Associates, and resulted in 31 total units of blood collected. All donations benefited the New York Blood Center.
Jeanne Mack, a member of the Human Resources Department at David Lerner Associates, organized the event as the Blood Drive Chair. Senior Associate Daniel Burns and Implementation Specialist Lisa Cali acted as "captains" for the drive, helping to promote the event and recruit donors.
"I was so pleased with the turnout for our annual blood drive. The David Lerner Associates employees are eager to help whenever they are asked," said Jeanne Mack, Human Resources Assistant at David Lerner Associates. "We usually hold our annual blood drive at this time of year because it has been reported that the blood supply for New York hospitals is significantly lower during the summer months."
Blood donations tend to be lowest during the summer months as regular donors leave the area on vacation. Also, donations from high schools and colleges, which account for 25% of regional blood collection, decrease when schools close for the summer.
New York Blood Center (NYBC) is one of the nation's largest non-profit, community-based blood centers. For 50 years, NYBC has been providing blood, transfusion products and services to hospitals serving more than 20 million people in New York City, Long Island, the Hudson Valley, New Jersey, and parts of Connecticut and Pennsylvania.
The corporate headquarters of David Lerner Associates are located at 477 Jericho Turnpike in Syosset, NY. For more information about David Lerner Associates and future community events, please call 1-877-367-5960.
About:
Founded in 1976, David Lerner Associates (DLA) is a privately-held investment company. DLA's headquarters are in Syosset, New York and has branch offices in Westport, CT; Boca Raton, FL; Teaneck, NJ; White Plains, NY; and Princeton, NJ.