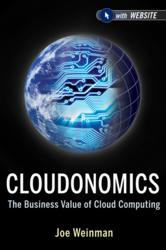 Hoboken, NJ (PRWEB) September 05, 2012
The cloud, shorthand for "cloud computing", is transforming all aspects of personal life, business, and society. With that transformation comes deep interest in economic justification, as well as a bit of fear, uncertainty, and doubt. CLOUDONOMICS: The Business Value of Cloud Computing (John Wiley & Sons; September 2012; $60.00) looks well beyond the ephemeral specifics of particular service provider offerings or technologies, and instead uses understandable examples to explain how the cloud can be wielded strategically to create profitable revenue while delivering clear benefits to customers. Written by cloud computing thought leader Joe Weinman, the book demystifies business models and economic benefits of the cloud, offering insights to business executives in virtually any industry--CIOs, developers, architects, IT managers, academics, students, investors, and policy-makers.
Exploring the details of cloud economics involves a rigorous, multidisciplinary analytical approach leveraging economics, behavioral economics, statistics, calculus, computational complexity theory, simulation, and system dynamics. Fortunately, Weinman uses other pay-per-use, on-demand service businesses, such as hotels, rental car services, taxi cabs, and coffee shops to clearly explain the laws of Cloudonomics to determine strategy and guide readers through implementation. CLOUDONOMICS examines:
•How IT and cloud computing can help achieve strategic competitive advantage;
•When and when not to use the cloud;
•Where the conventional wisdom regarding the cloud errs, and why;
•The properties and architectural implications of pay-per-use pricing and on-demand resources, and the conditions under which such charging and provisioning drive value;
•The increasing importance of proximity, and the economics of dispersion in enhancing the user experience and thus revenue;
•The trade-offs between consolidation and dispersion;
•Behavioral economic concerns for and against cloud adoption with an overview of the psychology, neuroscience, and economics involved;
•Analysis of cloud patterns such as communications and markets, considering not just cost but topics such as the expected marginal value of an additional participant in a market.
Cloud start-ups are forming on a daily basis, and billions of dollars in wealth are being created as companies craft innovative strategies to exploit this opportunity. Conversely, long-standing corporate icons that have failed to do so are becoming history instead of making it. In short, the cloud is disrupting every dimension of business, whether it is the research, engineering, or design of new products and services; their manufacturing, operations, and delivery; or any point along the customer interface. CLOUDONOMICS explores the implications of the cloud and how it applies to the evolution of modern business, as well as reveals how the next decade is likely to bring untold innovation.
ABOUT THE AUTHOR:
Joe Weinman (Basking Ridge, NJ) is Senior Vice President, Cloud Services and Strategy at Telx. He has held executive leadership positions at AT&T, Hewlett-Packard, and Bell Laboratories, in areas such as corporate strategy, business development, product management, operations, and R&D. Named a "Top 10 Cloud Computing Leader" by TechTarget, Weinman is a frequent international keynote speaker, blogger and the founder of Cloudonomics--a rigorous, multidisciplinary approach to valuing the cloud. He has been awarded 15 U.S. and international patents in diverse fields and has been showcased in numerous print and online publications and global video broadcasts. He has a Bachelors and Masters in Computer Science from Cornell University and UW-Madison respectively, and has completed Executive Education at the International Institute for Management Development in Lausanne.
CLOUDONOMICS: The Business Value of Cloud Computing
Published by John Wiley & Sons, Inc.; Publication date: September 10, 2012
$60.00; Hardcover; 416 pages; ISBN: 978-1-118-22996-5