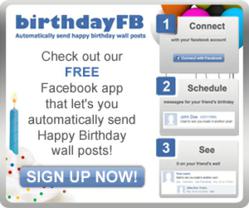 I'm quite baffled by how quickly the word has spread around the world and I think it's awesome!
Kansas City, MO (PRWEB) September 06, 2012
birthdayFB , the Facebook birthday app known for its ability to schedule happy birthday wall posts, is now seeing overseas growth at a rate that is quickly exceeding its domestic growth. Geoff Lilienfeld, founder of the birthday app, tells us that they are seeing visitors from over one hundred countries per month and that the number appears to be increasing. "I'm quite baffled by how quickly word has spread around the world and I think it's awesome!" Lilienfeld exclaimed.
birthdayFB is planning to translate the app into several additional languages. Part of the reason for birthdayFB's rapid overseas growth, however, is that as long as the user understands the concept, its pretty easy to navigate and use without a strong understanding of the English language. This is due to the site really being a tool rather than content driven as well as web browsers having built in translation functionality that continues to improve. As these browsers continue to improve it becomes easier and easier for international users to use apps written in languages other than their native.
Some of the countries birthdayFB has the largest presence in include India, Italy, Spain, and the United Kingdom. birthdayFB is expected to continue to grow quickly in these countries as once the word gets out about its ability to pre-schedule happy birthday wall posts blog posts tend to come quickly. "Bloggers have really been birthdayFB's bread and butter," Lilienfeld tells us. "The thing about bloggers is that they read other bloggers which creates a unique opportunity for the word to spread like wildfire."
The concept for birthdayFB is simple. Users connect their Facebook account and are then able pre-schedule happy birthday wall posts. On the morning of their friends' birthdays, birthdayFB automatically posts the happy birthday Facebook message. Unlike other happy birthday facebook apps birthdayFB has a very small footprint rather than heavily advertising itself on a users' wall.
Users can register for the free birthday app at http://birthdayFB.com
birthdayFB is a completely free Facebook birthday app designed to make sure its users never forget a birthday again. The site allows users to schedule customized Facebook birthday posts days, weeks, or even months in advance. birthdayFB was created by Geoff Lilienfeld, s serial entrepreneur known for his previous start-ups which include C&R Granite and iPhonesIntoCash. Lilienfeld publishes a business blog around birthdayFB as well as his other businesses and personal life. His blog can be found at http://geoffL.com