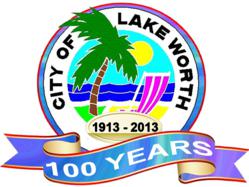 "We have a unique identity, Lake Worth has a fascinating history and I am proud to call this community my home." - Betty Resch, Centennial Chair
Lake Worth, FL (PRWEB) September 07, 2012
The City of Lake Worth Reaches its First Century!
The City of Lake Worth will celebrate the 100th anniversary of its incorporation with a series of special events and activities planned by the Lake Worth Centennial Foundation, Inc. A not-for-profit Florida corporation which has accepted the challenge, working hand-in-hand with the City, of planning and coordinating the official centennial celebrations, starting November 2012 and culminating with the July 4th, 2013, all-town celebration.
Lake Worth is a coastal city of 35,000 residents, located in Palm Beach County, Florida (population 1,335,187). Lake Worth is a dynamic, multi-cultural city with a strong social and environmental consciousness. People are drawn to the city by its individualistic style, acceptance of different cultures and lifestyles, many historic structures, hip downtown and distinctive residential neighborhoods. The city has a rich history and is protective of its historic architectural fabric. Over 1,000 historic buildings contribute to the human scale of the city and the charm of its downtown and residential neighborhoods.
The Lake Worth Centennial Executive Board is proud to be a volunteer organization consisting of the following: Betty Resch, Chair; Greg Rice, Vice Chair; Mark Easton, Vice Chair; Dave Vespo, Treasurer; and Mary Lindsey, Secretary.
"I am pleased to have this opportunity to celebrate this great city," says long time resident, Betty Resch, a former city attorney. "We have a unique identity, Lake Worth has a fascinating history and I am proud to call this community my home."
The Lake Worth Centennial Board has contracted the services of DSI dba Devine PR & Special Events, a Florida corporation with more than 30 years of related experience. This includes the coordination of the Town of Palm Beach's Centennial, April 2011. Together with the Lake Worth Centennial Executive Board, Troy Devine, Vice President, DSI, Inc., will be coordinating the overall year-long planning and execution for these widely anticipated Lake Worth Centennial Celebrations.
Below is a brief outline of some of the events being coordinated:
Saturday, November 10th, 2012 – Veterans Day Parade:
"A Hundred Years of Heroes" This parade will wind through the historic downtown with a special celebratory program to follow at the Cultural Plaza. Through speech and song, veterans and their families who have sacrificed much, will be recognized and honored. Event time: 2:00pm to 6:00pm.
Saturday, December 8th, 2012 – Holiday Parade:
The annual parade and festivities in downtown Lake Worth are being planned with more details coming soon.
Saturday, January 12th, 2013 – International Day:
Groups representing the wide arrange of cultures in Lake Worth will come together in a grand community celebration.
Saturday, January 19th, 2013 – The Beach Bash:
This will be a fabulous beach party, inviting one and all, to experience the incredible Lake Worth Beach. Festivities will start at 12pm (noon).
Saturday, February 16th, 2013 – Lake Worth Centennial Homecoming:
Reminiscent of Proms and Dances held throughout the years at the Historic Casino Ballroom, this event will recapture those memories decade by decade. Guests will be encouraged to dress in prom finery from their own favorite decade!
Saturday, March 2nd & 3rd, 2013 – The Art of Lake Worth:
The Centennial Committee is working with the Lake Worth Art League, and other groups, to organize a day to celebrate the musical, visual, and performance arts that have defined generations.
Saturday, March 9th & 10th, 2013 – The Art of Lake Worth (Con't):
Second weekend of this event - The Centennial Committee is working with the Lake Worth Art League, and other groups, to organize a day to celebrate the musical, visual, and performance arts that have defined generations.
Saturday, April 13th, 2013 – Church Choir Sing Out & Supper:
This event will feature choirs from many of our Lake Worth communities of worship together in joyful celebration of fellowship and song. A pot luck supper will follow.
Saturday, May 11th, 2013 – Field Day:
A day of family fun, outdoor activities, and carnival type celebration, to be held at the Scottish Rite Masonic Temple location at 200 North D Street. This is the home of the Gray Mockingbird Community Garden.
Saturday, May 18th, 2013 – Historic Sites & Homes Tour:
Enjoy an exciting day of informative, educational, and entertaining tours highlighting the most historic sites and structures gracing the City of Lake Worth.
Saturday, May 18th, 2013 – A Night at the Museum:
A special evening at the Lake Worth Museum. This event is being sponsored and hosted by the College Park Neighborhood Association.
Saturday, May 25th, 2013 - Memorial Day Weekend Scavenger Hunt:
A City-wide hunt for treasure!
Saturday, June 15th, 2013 – City-wide Bike Race:
Details coming soon.
Saturday, June 29th, 2013 –"Sock Hop":
In the downtown Cultural Plaza, an outside event free to all.
Saturday, July 4th, 2013 –4th of July & Centennial All-Town Celebration:
For the 100th birthday of Lake Worth, the City will once again celebrate the past, present and future with an all out spectacular celebration. The Great American Raft Race, sponsored by the Bryant Park Neighborhood Association, special events downtown, fireworks and light show, and other events, are just part of the celebrations to commemorate this historic milestone.
For general information, volunteers, or to be a participant, please contact: LakeWorth100@gmail.com or visit http://www.LakeWorth100.com
For press, media, and sponsorship opportunities, please contact:
Troy Devine
Troy(at)DevinePublicRelations(dot)com
(cell) 561.891.1471
Social media information:
Twitter: @LakeWorth100
Facebook: http://www.facebook.com/lake.worth.fla (Lake Worth 100)

All events are subject to change or cancellation.
For General information:
http://www.LakeWorth100.com