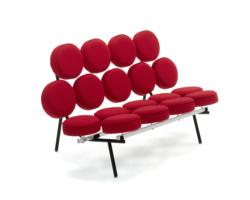 Kalamazoo, MI (PRWEB) September 07, 2012
Beginning on September 9, the Kalamazoo Valley Museum hosts a traveling exhibit, "Good Design: Stories from Herman Miller." Visitors can explore what collaborative problem-solving looks like based on the team-design process employed at the world-renowned furniture company, Herman Miller, Inc. The exhibit uses vintage and contemporary product displays, storyboard installations, and audiovisual recorded interviews of modern masters of design to underscore the importance of good teamwork. As defined in this exhibit, art is a form of self-expression. Design is about meeting needs and is focused on serving others.
Megan Burtzloff, design assistant at the Kalamazoo Valley Museum, is hosting a Gallery Talk about the Herman Miller exhibit from 6 to 8 p.m. on Oct. 5, during the city's monthly Art Hop event.
Because visitors are likely to wander in and out during Art Hop, Burtzloff will restart her 15-minute talk repeatedly throughout the two-hour-long period.
The local folk/rock/blues band Branden Mann and The Reprimand also performs from 6 to 8 p.m. that night. A Led Zeppelin laser light show also begins in the Planetarium at 8:30 p.m.
The Herman Miller furniture company was named for the father-in-law of the company founder, D.J. De Pree, who put great trust in designers. De Pree with innovative designers led a traditional home furniture manufacturer in Zeeland, Michigan to become an international leader of modern office furniture.
Popular Herman Miller products include the Eames lounge chair, designed in the 1940's by the husband and wife team of Charles and Ray Eames; George Nelson's Marshmallow Sofa and Coconut Chair; and the Storagewall, the first modular storage system and a forerunner of systems office furniture.
Visitors will have the opportunity to engage their own designs with 2-D and 3-D building toys available in the museum gallery.
"Good Design: Stories from Herman Miller" was organized by the Muskegon Museum of Art, Michigan, in collaboration with The Henry Ford in Dearborn, Michigan, through the support of Herman Miller, Inc. The exhibit will remain on display at the Kalamazoo Valley Museum until January 27, 2013.
The Kalamazoo Valley Museum, located in Kalamazoo, MI, is operated by Kalamazoo Valley Community College and is governed by its Board of Trustees.