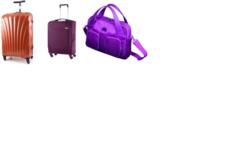 the following information may take away a bit of that daunting emotion.
Kent (PRWEB UK) 7 September 2012
Capacity: - Internal space for packing items. Do not be misled by the externals of a case as sometimes the frames may reduce internal packing space.
Carry-on luggage: - luggage that is manufactured to a size that can be taken on the airline with you and will come in various shapes, sizes and textures.
Compartments:-Look for handy separated sections which may provide sealable wetbags, shoe bags etc to keep wet or dirty items separate from other items in the suitcase
Denier: - The thickness of the fabric the case is manufactured with and therefore would predict durability.
Expandability: - Luggage designed with a zipped compartment that will instantly allow a few extra centimetres of space instantly.
Garment bag: — a garment bag is a piece of luggage that will help reduce wrinkles and it is usually a soft vertical bag with interior bar and hangers for garments and outside pockets for other apparel. Can be folded in half or thirds, lengthwise and fastened for secure transporting of clothes.
Hard shell or Hard side: - cases made from a hard but flexible material
Hide away or Telescopic locking handles: - handles that are securely tucked out of sight unless needed and can then be pulled out to use and would adjust at various heights.
Integrated ID tag — ID tag for your contact information (should your luggage go astray) sewn directly onto your luggage rather than hanging off the handle. This proves to be a more secure option.
Laptops compartment: - this is an increasing necessity for our modern lifestyle. The case would provide a padded section where laptops would transport securely. Make sure the compartment is suitable for the correct size laptop.
Lining: - internal feature for extra protect and may sometimes have an extra pocket.
Smart Sleeve: - a pocket that slips over the handle of an Upright or Spinner case.
Soft side: - cases manufactured from fabrics of differing deniers.
Spinners: - Simply means that the case sits on 4 wheels and brings a multi-directional wheel system making it easy to manoeuvre without effort of pushing or pulling but can be used the same as an Upright.
TSA Lock: - This can be integrated or they can come in separate padlocks. This means "Transportation Security Administration". This is a special locking system that comes with a combination lock as well as a section for a key. The combination lock would be used by the passengers as the personal locking security where you set your unique code. The keyhole section is for a special key that the airport security holds should they have cause to check your luggage in your absence. http://uk.prweb.com/releases/2012/8/prweb9788733.htm
Upright: - The case sits on 2 wheels and would need to be pulled along.
Warranty: - agreement by the manufacturer of the luggage to provide after sales service if there is a fault on the manufacturing of the product. The length can vary from weeks to months or years.
Weight: - this affects how much you can pack. Lightweight or Ultra lightweight means the case is so light that it allows you more in packing before the case reaches the maximum weight allowed by the airline.
Wheel guards or ribbed guards: - this is extra protection on parts on the suitcase that may be most vulnerable to damage. It could on the sides of the case or the wheels.
Luggage Superstore established site is in West Kingsdown, Kent. Their aim is providing competitive prices of the highest quality luggage and top calibre Customer Service for online luggage shopping.
Trina Chee-a-kwai
Luggage Superstore
01474 854666
Email information