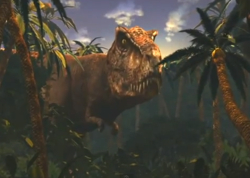 Jurassic Park Builder has received over 1.3 million downloads in the past month
(PRWEB) September 06, 2012
NewsWatch, a national television show, recently aired a segment on Jurassic Park Builder, a mobile resource management game by Ludia Inc. Scott Steinberg, author of the "Modern Parents Guide" and nationally recognized tech guru, joined NewsWatch to highlight the game.
Watch Scott Steinberg's Review of Jurassic Park Builder
Jurassic Park Builder is a resource management game by Ludia Inc. and Universal Pictures based on the Jurassic Park franchise. During the game, players build their own park finding and growing up to 30 various dinosaur species from DNA in amber to adult.
Throughout the game players interact with characters from the original franchise, listen to music, and hear roaring dinosaurs. Jurassic Park Builder has received over 1.3 million downloads in the past month, a result of heavy investment in graphics and game play. The game features a central mission with a "thrill mode" that is unlocked after certain levels are reached. Jurassic Park Builder is built on social interaction as well. Players can visit other parks, send gifts, help friends decode DNA, and identify dinosaur species.
Jurassic Park Builder is a free resource management game available on iTunes for the iPhone, iPod, and iPad. In 2013, Ludia and Universal Pictures plan to release an Android and Facebook version.
For more information, go to Ludia.com or download the app on the iTunes marketplace.
About Ludia Inc.
Ludia creates and distributes cross-platform interactive entertainment with mass consumer appeal. Located in Montreal and founded by experienced industry players, Ludia's innovative and high-quality product portfolio consists of original and branded properties including , Are You Smarter Than A 5th Grader?®, Family Feud®, Jurassic Park, Press Your Luck®, The Price Is Right®, Where's Waldo?® and Who Wants To Be A Millionaire.
About Universal Partnerships & Licensing
UP&L oversees Universal's consumer product licensing, film and home entertainment promotions, and all corporate alliances for Universal's theatrical, home entertainment, theme parks and stage productions. This dedicated division is also responsible for monetizing the Studio's vast library of films and characters through licensing, branding and marketing opportunities. UP&L is part of NBCUniversal. NBCUniversal is one of the world's leading media and entertainment companies in the development, production and marketing of entertainment, news and information to a global audience. NBCUniversal owns and operates a valuable portfolio of news and entertainment networks, a premier motion picture company, significant television production operations, a leading television stations group and world-renowned theme parks. Comcast Corporation owns a controlling 51% interest in NBCUniversal, with GE holding a 49% stake.
About Jurassic Park
Since Universal Pictures and Steven Spielberg's Amblin Entertainment first joined forces to unleash an adventure over 65 million years in the making, Jurassic Park has become the "premier" and "authentic" dinosaur brand the world over. When Jurassic Park was released in 1993, it became an instant phenomenon. In the years that followed, two additional films were released – The Lost World: Jurassic Park and Jurassic Park III – bringing the trilogy's worldwide box office total to more than $2 billion. The franchise continues to resonate with consumers worldwide via consumer products, popular attractions at Universal Studios Theme Parks and annual airings of the three films on a multitude of television networks. The Jurassic Park Ultimate Trilogy, recently made available on Blu-ray for the first time, showcases all three films in high definition with 7.1 surround sound and hours of new bonus features.
NewsWatch is a weekly 30-minute consumer oriented television show that airs nationwide. NewsWatch regularly features top travel destinations, health tips, technology products, medical breakthroughs and entertainment news on the show. The show airs in 180 markets nationwide as well as all of the top 20 broadcast markets in the country, and is the preferred choice for Satellite Media Tour and Video News Release Distribution. For more information, head to newswatchtv.com