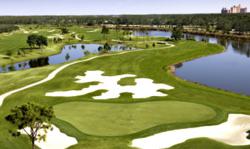 Top 20 Orlando Golf Courses
Orlando, Florida (PRWEB) September 08, 2012
Early fall is the perfect time of year to book a golf package in Orlando, and Orlandoescape.com—the #1 Internet site for Orlando, Florida—allows Florida visitors to get into the swing of things by listing the Top 20 Orlando Golf Courses.
With green fees starting as low as $15, visitors and residents can choose from a wide variety of golf courses in and around Orlando, and play at some of the same courses where their favorite golf pros have played. From the Greg Norman designed Championsgate course to the legendary Arnold Palmer Bay Hill Club and Lodge—the biggest names in golf are well represented at Orlando golf courses.
"Serious golfers enjoy the challenge of playing courses designed by their favorite professional players," said Sunil Govind, president of Orlandoescape.com. "And then there are the more traditional courses—like the Dubsdread Golf Course, which dates back to 1924—which really give players a sense of being a part of golf history."
Govind added that many of the top 20 Orlando golf courses are located close to Orlando's premier attractions, such as the Walt Disney World resort. Grand Cypress Resort Golf club, Disney's Kingdom Magnolia Golf Club and Disney's Palm Golf Club are all located in Lake Buena Vista, the official location of Disney World, and Disney's Osprey Ridge Golf Course is within the Disney World resort.
"A golf package at a resort near the attractions will enable travelers to enjoy everything that this region has to offer," said Govind. "September is an ideal time to take advantage of the summer tourist crowds going away and being able to spend a few relaxing days doing nothing but golfing."
For more information on resort packages in Orlando, visit Orlandoescape.com.
About Orlandoescape.com: Launched in 2000, Orlandoescape.com is the #1 Internet site for Orlando, Florida, featuring the top Orlando vacation package deals, travel articles, and links to related sites.