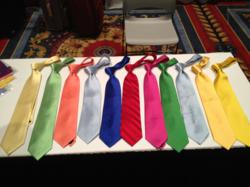 Los Angeles, CA (PRWEB) September 07, 2012
The JT Foxx Organization is proud to announce the addition of JT Foxx Power Ties to their portfolio of companies. Dressing the part has never been more important for entrepreneurs. With the JT Foxx Power Tie, the savvy entrepreneur can put his best foot forward, with striking colors and bespoke tailoring.
The idea to create the ties came to JT shortly before last year's Mega Partnering Conference, Mega Partnering V. As JT explains, "One of the funnier themes at Mega Partnering V was the fact that I decided to start another company; a power tie company called the JT Foxx Wealth Collection. I launched the Collection at Mega Partnering V after only coming up with the idea 1.5 weeks earlier. We sold so many just from the first launch!"
The tie collection pays homage to some of JT's most cherished mentors including Nido Qubein and Apple co-founder (and frequent Mega Partnering presenter and attendee) Steve Wozniak. Their respective colors, Nido Red and Apple Green, round out the comprehensive color palate, adding powerful flair to any executive's appearance.
The full collection will be available for purchase at the upcoming Mega Partnering VI conference, taking place in Los Angeles from November 29-December 2, 2012. Plans are underway to launch the ties for sale online as well.
About Mega Partnering
Mega Partnering is an independent international organization JT Foxx created after watching a 60 Minutes episode about Davos, applying, and getting turned down when he tried to start his own business. Not willing to take rejection, JT Foxx decided to start his own opportunities for small businesses and called it "MegaPartnering."
Mega Partnering is committed to improving the state of the business world by engaging small businesses, real estate investors, internet marketers, and other leaders of society to shape partnerships and life-long relations. The conference has since grown to include small entrepreneurs from all over the world, and raises money for charitable initiatives, keeping with the philosophy, "Learn, Earn, Return."
Mega Partnering attendees have included Mayor Rudy Giuliani, Gene Simmons, Kevin Harrington, former Prime Minister Brian Mulroney, George Ross, Wayne Allyn Root, Stedman Graham and Bruce Buffer. For more information, visit http://www.linkedin.com/in/jtfoxx