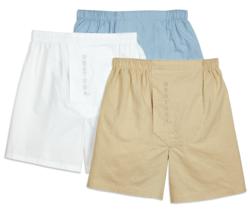 Columbia SC (PRWEB) September 13, 2012
Ubatuba boxer Shorts, launched in March of 2012, has erupted with great success. Sales have been brisk and the amount of repeat buyers keeps increasing. It seams that people can not get enough of the Off-Center fly that Ubatuba incorporates into its patented design. It appears that there are more men who like to walk around the house in their boxers that the "big companies" had thought.
Request have come in by the hundreds for Ubatuba to be offered in Black and to be available in an even larger size. Well, Ubatuba has listened and by the beginning of November, ubatubaboxershorts.com will have Black Ubatuba's and they also will come in an Extra Extra Large size of 44"-46". Ubatuba is also following up on some other suggestions received from its customers.
Which include a women's pair of better designed panties. You may find Ubatuba Boxers only at ubatubaboxershorts.com