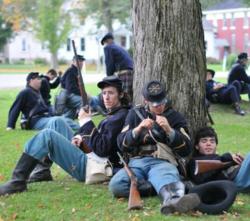 They marched forth from that camp to the places we've all read about in history texts -- places with names like Chancellorsville, Gettysburg, the Siege of Atlanta and Sherman's March to the Sea.
Angelica, NY (PRWEB) September 05, 2012
Now in its fifth year, Angelica's Civil War Re-enactment attracts thousands of visitors and hundreds of re-enactors who, through living history demonstrations, re-enactments of actual Civil War battles, and spontaneous interactions with visitors, help the audience understand more fully certain facets of Civil War life. And it isn't always pretty.
Visitors will experience history coming alive when they visit the military camps, where the re-enactors are happy to describe their life as a Union or Confederate soldier. The doctor in the medical tent can tell you how surgery was performed, illnesses cured (or not), and wounds tended in the heat of battle. The laundress can describe the methods used to wash clothes in camp, and cooks will show you what's in the pot for dinner.
New Activities: New this year is a living history presentation by Jack Maples portraying Confederate General Montgomery Corse, an anti-slavery Confederate. In this portrayal we learn about General Corse's relationship with Robert E. Lee. Maples will also be selling his book, Reconstructed Yankee, which is locally relevant: the story of the book ends in the old village of East Rushford (now under Rushford Lake). Mr. Maples' presentation takes place on Saturday at 10:00 am and 11:00 am in the Angelica Grange Hall on Park Circle.
Also new this year is a re-creation of the Richmond Bread Riot by the civilian component of the re-enactors. The Richmond Bread Riot was an uprising of women in Richmond, Va., over the inflation and food shortages experienced by the South during the war. It is an often-overlooked event in history education. This re-creation will take place on historic Main Street at 10:00 a.m. Saturday and 1:00 p.m. Sunday.
A Catholic Mass celebrated by Father John will take place on Sunday at 9:00 am in the Grange Hall, to be followed immediately by a Civil War-era church service conducted by the Rev. John Hogan, who is returning to present his authentic service again after an absence of two years.
Concert: Sunday's activities will culminate at 2:30 p.m. in Park Circle with a very special musical presentation by two premier ensembles from Houghton College in Houghton, N.Y. The Houghton College Philharmonia and the Houghton College Choir will perform patriotic and Civil War-era music, interspersed with readings from and about the period. The program will end with a performance of "The 1812 Overture" by Pyotr Ilyich Tchaikovsky, replete with church bells and cannon fire, to commemorate the 200th anniversary of Napoleon's retreat from Russia (the event that inspired the famous composition).
The Houghton College Philharmonia with select guest artists from Alfred University, under the direction of Conductor Brian Casey, features approximately 60 members and seeks to expose its audiences to the highest quality music written for string, wind and percussion instruments. The Houghton College Choir, led by Conductor Brandon Johnson, features 75 student singers. For 80 years the Houghton College Choir has committed itself to world-class performances rooted in the sacred a cappella tradition, and has performed in the most renowned concert halls and churches across the U. S. and abroad.
Angelica Farmers' Market: Park Circle will host the popular Angelica's Farmers' Market, with local vendors offering fresh fruits, vegetables, meats and baked goods, plus wine, honey, and artisan wares. Sharing the market for this event will be Civil War-period vendors called "sutlers", plus craftsmen, civilian camps, and traveling exhibits.
Admission, Parking and Shuttle Service: All event parking is at the Allegany County Fairgrounds at Exit 31 on the I-86 expressway, a short distance from downtown. Admission is $2.00 per person [12 and under – free] and includes a souvenir booklet and all-day shuttle service.
To enhance the safety of holding this event in Angelica's Historic District, the Angelica Village Board has authorized the closing of Main Street to vehicular traffic and to parking from High Street to Peacock Hill Road, beginning Friday, September 21, at 6:00 p.m. and ending Sunday Sept. 23rd at 4:00 pm. Detours will be established to re-route traffic.
History: One hundred and fifty years ago, men from Allegany County and the surrounding area gathered at what is now known as the "Parade Grounds" in Letchworth State Park. In 1862, it was known as "Camp Williams" and served as the mustering point for over 1,000 of these men, who became the 136th New York Volunteer Infantry. They marched forth from that camp to the places we've all read about in history texts -- places with names like Chancellorsville, Gettysburg, the Siege of Atlanta and Sherman's March to the Sea.
Boy Scouts and Re-Enactors: This year on September 22-23, members of the modern- day group who recreate those men and women of the Civil War will gather in historic Angelica, N.Y., to teach today's young men about that era. The Western Gate District of the Allegheny Highlands Boy Scout Council will hold their eighth Civil War Camp-o-ree at the Allegany County Fairgrounds.
The camporee has fueled a new interest in Civil War history by the scouts and led to the formation of Crew 7136, a Venturing Crew that re-enacts Company "K" of the 136th New York Volunteer Infantry, which was recruited in Allegany County in 1862. Crew 7136 participates in re-enactment events throughout the region. Dressed and equipped with authentic equipment, they strive to teach history to today's youth through portraying the lives of Volunteer Infantry and civilians during the Civil War.
Approximately 450 scouts and leaders from throughout the region are expected to participate in living history demonstrations of camp life, marching and artillery. Over 350 re-enactors from across the region will make camp right in the yards of willing village homeowners. The Union re-enactors will encamp on properties west of Park Circle, and the Confederate re-enactors will encamp on properties east of Park Circle. From these locations they'll eat, sleep and breathe Civil War-era life. Dressed in period costume, they'll battle blue against grey complete with cannons, muskets, and epithets. Capping off the weekend, the scouts will observe several skirmish re-enactments put on by the re-enactors, and then participate in a mock battle of their own, using imitation muskets and gaining valuable insights into Civil War life.
Weekend Event Schedule:
Friday, Sept. 21:
9:30 a.m. – 2:00 p.m. Education Day
Many of the re-enactors come to Angelica and set up their encampments a day early, to welcome more than 400 8th grade students from schools across the county who are on field trips to learn more about Civil War life. Residents are also invited to visit these living history stations.
Saturday, Sept 22:
9:00 a.m. Gates & Military Camps Open to Public
9:00 a.m. - 5 p.m. Living History Stations Open to the Public
10:00 a.m. Jack Maples as Anti-slavery Confederate Gen. Montgomery Corse (Grange Hall)
10:00 a.m. Richmond Bread Riots (Historic Main St.)
11:00 a.m. Jack Maples as Gen. Montgomery Corse (Grange Hall)
11:00 a.m. Drill Practice - All Units & Branches
12:30 p.m. All Units Assemble for Safety Inspections
1:00 p.m. 1862 Battle (Part 1) Battle of Front Royal (aka Battle of Guard Hill or Cedarville) (Historic Main Street)
2:30 - 4:00 Ladies' Tea (Registered Re-enactors Only; American Hotel)
2:30 Boy Scout Battle (Old Angelica School Athletic Field)
3:30 1862 Battle (Part 2) Battle of Front Royal Resumes (Old Angelica School Athletic Field)
5:00 p.m. Camps Close to the Public
7:00-10:00 Dance with Civil War Music and Calling by "City Fiddle" (Grange Hall; All Welcome. Period Dress Encouraged. Donations, please!)
Sunday, Sept 23
9:00 a.m. Gates & Military Camps Open to Public
9:00 a.m. Catholic Mass Celebrated by Father John (Grange Hall)
10:00 a.m. Authentic 1860s Civil War Church Service by Rev. John Hogan (Grange Hall)
12:00 p.m. Main Street Parade
12:30 p.m. Gettysburg Address (Park Circle Gazebo)
1:00 p.m. All Units Assemble for Safety Inspections
1:00 p.m. Richmond Bread Riots (Historic Main St.)
1:00 p.m. "Voice from the Civil War" by Eileen Patch (Grange Hall)
2:00 p.m. 1862 Battle -- First Battle of Kernstown (Historic Main Street)
2:00 p.m. Living History & Public Tours of Camps
2:30 p.m. 1812 Overture Concert by Houghton College Philharmonia and College Choir (Park Circle)
4:00 p.m. Event Closes to the Public
For More Information: This event is presented by the 136th N.Y. Venturing Crew; the Angelica Merchants' Association; and the Allegheny Highlands Council, Boy Scouts of America; in cooperation with the Village of Angelica; the Greater Allegany County Chamber of Commerce & Allegany County Tourism; and Houghton College.. For more information, please visit http://www.136thny.com, call 585-409-5918 or email info (at) visitangelica (dot) com