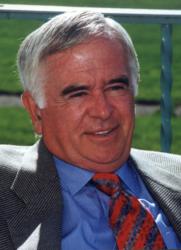 "I trust Kevin's handshake, he keeps his word, supports all that we do, while maintaining his high standards and ethics."
- Dr. Barbara Baker, President & CEO, Pittsburgh Zoo & PPG Aquarium.
Denver, CO (PRWEB) September 06, 2012
Kevin McNicholas, Chief Executive Officer and President of K-M Concessions Inc. and Service Systems Associates (SSA) became only the fourth person to receive the prestigious Association of Zoos & Aquariums' (AZA) Wendy Fisher Award for Professional Excellence.
This award is given to an AZA Commercial Member who has demonstrated outstanding character, leadership, professional excellence and distinguished service to AZA and fellow Commercial Members. According to SSA Senior Vice President, Chief Operating Officer and Business Partner for 35 years, Tim Brantley, "Kevin's impact on the AZA organizations is unmatched. Through Kevin's vision and leadership, our teams have served over 17 million guests at 26 AZA partners in just the past year," Tim added, "He has always been committed to family, friends and colleagues, and he is a very deserving recipient of this award."
Tim said that many will agree what makes Kevin worthy of this award, however, is his personal integrity and character. "He is truly a unique, humble individual who epitomizes the spirit, passion, honesty, integrity, professional knowledge and commitment to our partners and to AZA," he said.
Created in 2004, the award is named for its first recipient, Wendy Fisher, founder of Mailworks™, who exemplified these admired qualities by being an active AZA Commercial Member for over 20 years, and who was involved in numerous AZA Committees.
Kevin began his career with zoos and aquariums when K-M Concession was selected as the food and gift partner for the Denver Zoo in 1973, a relationship that continues nearly 40 years later. Today, his companies provide services to 30 cultural attractions, 26 of which are AZA-accredited member zoos and aquariums. Kevin has been an Associate Member of AZA since 1981, and SSA has been a Commercial Member since 1992.
Many zoo and aquarium directors shared that they believe Kevin personifies all the qualities that the Wendy Fisher award was created to recognize. Houston Zoo Director Rick Barongi said that in many ways Kevin and Wendy shared many of the same unique traits that made them such special individuals and leaders in the AZA community. Denver Zoo President and CEO Craig Piper agreed. "When I think of Wendy Fisher, I think of a person who dedicated herself to helping zoos and aquariums be more successful in fulfilling their missions . . . and served as a friend/mentor to hundreds of zoo and aquarium professionals, all with a commitment to high ethical standards and with grace and good humor. Kevin shares these same qualities," Craig said.
Rick Barongi added that Kevin is the perfect combination of old school values and modern business savvy. "While contracts are mandatory, his handshake is even more important. His business deals turn into friendships due to his charismatic and colorful personality. He is serious when he has to be, but also knows how to have fun and enjoy life," wrote Rick in the award application.
The Pittsburgh Zoo & PPG Aquarium was one of the first SSA partners when a contract was signed in 1990. Pittsburgh Zoo President and CEO Dr. Barbara Baker said through his leadership, Kevin exemplifies the concept of a partnership. "(He's) always there to lend counsel or a hand, to help out in any way, personally and professionally. Kevin's there when you need to bus a table or fry a burger, help out with a contribution, brainstorm a new idea, or plan the next major project," she added, "I trust Kevin's handshake, he keeps his word, supports all that we do, while maintaining his high standards and ethics."
Many know and appreciate Kevin's kind words, support and commitment and realize it's all been without the need for fanfare or recognition. This award is no different.
In accepting the award, Kevin humbly said "I'm honored and proud to be receiving this award named for a woman I admired as she dedicated herself to helping zoos and aquariums become more successful," said Kevin. He added that he thought of a quote that summarizes why he does what he does; it is: 'From those to whom much has been given, much is expected.'
Kevin's traits of instilling his personal beliefs of treating every clients and their customers as if they were part of his family has earned him many awards, including the Daniel E. Ritchie Colorado Ethics in Business Award, the 2008 Torch of Liberty Award from the Anti-Defamation League and the 2012 Noel and Tammy Cunningham Humanitarian Award by the Colorado Restaurant Association.
About K-M Concessions and Service Systems Associates
K-M and SSA manage retail and culinary operations at more than 30 museums, botanic gardens, zoos and aquariums in the United States, including the Monterey Bay Aquarium, the History Colorado Center, Tampa's Museum of Science & Industry (MOSI) and Los Angeles, San Francisco and Denver Zoos. The company is a national leader in guest service operations for cultural attractions, serving over 17 million guests annually. For more information, please visit the website at http://www.KMSSA.com.
About AZA
Founded in 1924, AZA is a nonprofit organization dedicated to the advancement of zoos and aquariums in the areas of conservation, education, science and recreation. The AZA is a leader in global wildlife conservation and a link to helping animals in their native habitats. To learn more, visit http://www.aza.org.