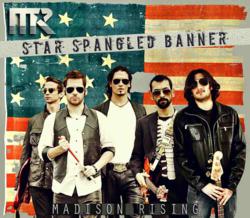 In 2011, the bowl donated $100,000 to the USO and provided more than 5,000 tickets to active-duty military personnel and their families.
(PRWEB) September 05, 2012
Patriotic rock band Madison Rising will be performing its #1 best selling rendition of the Star Spangled Banner at the 2012 Military Bowl (http://www.militarybowl.org) presented by Northrop Grumman on Thursday, December 27 at RFK Stadium in Washington, D.C. The game, which benefits the USO, will be televised nationally on ESPN for the fifth straight year. This year's bowl will feature Army against an opponent from the Atlantic Coast Conference (ACC), pending bowl eligibility. Army would be the third service academy to play in the Military Bowl, following Navy in 2008 and Air Force in 2011.
Earlier this summer, Madison Rising released a widely acclaimed rock version of the Star Spangled Banner, updated with a special addendum to reflect our nation's struggles at the dawn of the 21st century. In conjunction with that release, the band launched its One Million Star Spangled Banner Challenge (http://www.starspangledbannerchallenge.com) to offer Americans a fun and meaningful way to show their patriotism by watching the band's new video and downloading their rendition of the National Anthem directly to their iPods and other devices to play proudly in their cars, at the gym, at the beach or anywhere else they want. With over 750,000 views on YouTube, the band is well on its way to achieving the goal of one million views by Election Day (November 6th).
With first-rate participants and events, the Military Bowl seeks to generate broad support for the USO, positively impact the regional economy, honor the U.S. military and solidify the nation's capital as a leading college football destination. In 2011, the bowl donated $100,000 to the USO and provided more than 5,000 tickets to active-duty military personnel and their families. "We're honored to be part of such a great event," said Madison Rising lead singer, Dave Bray. " Hopefully we can help make it even more memorable for the men and women who give so much of themselves to protect and serve our country."
Madison Rising promotes the principles of liberty, independence, smaller government and personal responsibility. Their mission is not only to make great music, but to also send a message that American culture is alive and well. Madison Rising is currently recording its second album and actively laying the groundwork for a national tour. To get more involved with the band and help support their mission, please visit them at: http://kck.st/T1eyLt. To book the band for live performances such as corporate events, welcome home parties for soldiers or Christmas parties, please contact the band directly at booking (at) madisonrising (dot) com.