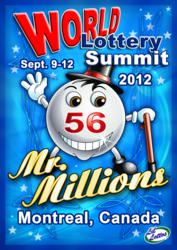 Providing World Class Casino and Lottery Entertainment.
Dix Hills, NY (PRWEB) September 06, 2012
All eyes will be on Mr. Millions™ and the Lil Lottos™ lottery ball characters at the World Lottery Summit in Montreal from September 9-12, 2012. Lottery officials from all over the world will be attending this historic event and will be able to see firsthand the excitement these lovable characters create.
For the first time ever, the World Lottery Association (WLA) and the North American Association of State and Provincial Lotteries (NASPL) will join forces to present World Lottery Summit 2012. With a focus on educating lottery executives on the latest and greatest lottery products and services, this year's event is sure to impress everyone who attends.
Mobile technology will be on everyone's mind as many of the world's largest companies stake their claim in attempting to become the leaders of the industry. With a focus on, "content first", we are ready to show the world how the Lil Lottos™ lottery ball characters will provide the most entertaining mobile lottery experience. All are invited to step right up and shake hands with Mr. Millions™, the lottery industry's premier spokesman.
About J&S Gaming, Inc.: Based in New York, J&S Gaming, Inc. provides the content for world class lottery products. For more information, please visit the Company's website at http://www.lotterypeeps.com .
Contact:
Steven Brandstetter
J&S Gaming, Inc.
12 May Hill Lane
Dix Hills, NY 11746
phone: 516.655.6926
email: JSGaming(at)aol(dot)com
# # #