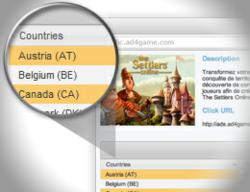 Hundreds of Gaming Offers and guaranteed highest Payouts
Montreal, Quebec (PRWEB) September 07, 2012
Ad4Game, one of the best advertising networks in the gaming industry, has the pleasure to announce the launch of its new platform for offers.
Thanks to our user friendly interface, we made it easy for affiliates to view/sort/search all our gaming offers available and the countries targeted along with their rates (Net = what you get paid).
You can also download banners in the respective language of the country where you are looking to run these offers.
All our gaming CPA offers simply require the visitor to fill in a simple signup form and confirm their email! Absolutely nothing else.
There are no tricks, no surveys, no credit cards needed.
With hundreds of top converting gaming offers and guaranteed highest payouts, affiliates don't want to miss that.
You can preview our Offers' platform at
http://www.a4g.com/adspec/offers