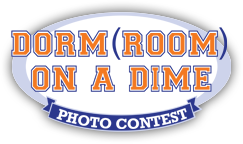 Quincy, MA (PRWEB) September 07, 2012
The way a person's living space is decorated can say a lot about them. It's how people express themselves; and make themselves feel comfortable in their most private of moments. However, pillows, picture frames, posters, and flat-screen televisions don't grow on trees. It's hard to make a living space everything it ought to be on a student budget. Which is even more reason to stand up and submit a photo of that space into the Dorm(room) on a Dime photo contest.
ScholarshipPoints members will have three weeks to participate in the contest by both submitting photos and voting for their own submissions and for photos submitted by their peers. At the end of the contest the three ScholarshipPoints members that submit the photos that receive the most votes will win scholarships. The first place finisher will receive a $1,500 scholarship; second place will receive a $1,000 scholarship, and third place a $500 scholarship.
At ScholarshipPoints we know that the most important component of the entire ScholarshipPoints program are our members. ScholarshipPoints members are intelligent, hard-working, creative, and most importantly trying to give themselves the best future possible by pursuing a college degree. These members are the reason why we hold contests like the Dorm(room) on a Dime photo contest, the Inspiring Educator essay contest, and other contests throughout the year. Not only do these contests give ScholarshipPoints another way to award more scholarship money to these members, but they also allow the team behind ScholarshipPoints get to know these members even more.
Edvisors (http://www.edvisors.com), a global leader in higher education marketing and college financial aid, provides a richer, more fulfilling education experience to students, educators and parents worldwide. We deliver on our mission by providing an unmatched portfolio of online education resources, online degree programs, student loan products and college-related information and services through Edvisors Student Services, Student Loan Network, and the Edvisors Foundation.