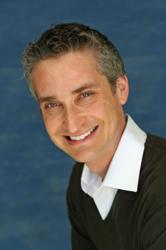 With so many challenges in education, it's easy for teachers to lose focus on what's most important, which, of course, is the students.
Los Angeles, CA (PRWEB) September 06, 2012
A recent article in the New York Times reported that teacher morale has been at its lowest point ever in 20 years. In response to this low morale, Motivational Speaker Scott Greenberg has recently adapted some of his motivational program material to provide teachers with an added sense of optimism. Greenberg has witnessed many of the changes within the teaching environment which prompted him to make changes to many of his programs; particularly the most popular program entitled, "Survival of the Finest: Thriving during Times of Change and Adversity"
Greenberg, a former substitute teacher and 19 year motivational speaking veteran, has seen firsthand the difficult times teachers are facing in today's educational environment. In the past two months, the speaker has traveled to eight states including Tennessee, Texas, California, Iowa, Florida, Minnesota, Washington, and Indiana, to bring a motivational message to teachers facing various issues that create low morale. Most of these states are experiencing similar challenges with budget cuts, increased class sizes, increased emphasis on accountability and test scores, fewer resources, and less job security. As a result, motivational speakers like Scott Greenberg, known for being a staff development speaker and motivational speaker for youth, are being called more than ever to provide a renewed sense of energy to the education industry.
"With so many challenges in education, it's easy for teachers to lose focus on what's most important, which, of course, is the students," says Motivational Speaker Scott Greenberg. "My goal is to reconnect them with the sense of purpose that got them into teaching in the first place."
The tremendous changes within the educational field have prompted motivational speakers like Greenberg to adapt their messages to show educators how to be resilient and learn how to cope with change to achieve peak performance.
Though Greenberg often speaks to well-funded companies and associations, he offers a much different pay scale for educators as many of his programs are commonly funded by grants and/or outside sponsorships. Ironically despite budget cuts at many schools, Greenberg has seen an increase in school districts and county offices of education reaching out to motivational speakers like him to provide their school or district with some much needed help.
About Scott Greenberg
Scott Greenberg is a motivational speaker specializing in resilience, peak performance, and emotional intelligence. His personal battle with cancer and inspiration from his "Schindler's List" holocaust surviving Grandmother are the basis for some of his motivational stories. Since 1993, Scott has spoken to a variety of schools and organizations looking to improve their leadership and work environment. Clients include Nike, The Wyndham Hotel Group, Cargill International, the United Nations and the U.S. Department of the Interior. Scott has written three books on leadership and is a contributing author to "Chicken Soup for the College Soul." For more information about Scott Greenberg, visit http://www.scottgreenberg.com or call 1-800-450-0432 (or outside the U.S. 1-818-785-5202).