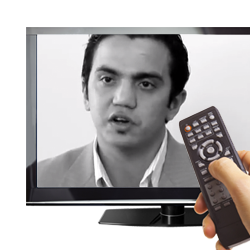 "I welcome the interview with the Pulse Network as an excellent opportunity to inform and educate business leaders on the importance of digital marketing. The Pulse Network is a perfect forum to reach business leaders...," says Hassan, CEO of Magic Logics
Dallas,TX (PRWEB) September 05, 2012
The Pulse Network is interviewing Hassan Bawab, Founder and CEO of Magic Logix, leading global digital marketing agency, in a televised interview in anticipation of Bawab's appearance at the Inbound Marketing Summit in Boston October 23rd and 24th.
"I welcome the interview with the Pulse Network as an excellent opportunity to inform and educate business leaders on the importance of digital marketing. The Pulse Network is a perfect forum to reach business leaders who care about their online presence," says Hassan.
Bawab is a world renowned expert in the field of digital marketing including inbound marketing, search engine optimization, content strategy, social media marketing, website development and design and over all online marketing. He has been interviewed on television in a number of countries.
Hassan is sought after by the media for both his knowledge and succinct, clear, yet charismatic and sometimes entertaining presentation.
Bawab speaks regularly for larger organizations including the Fortune 500 and industry associations. For more i nformation on Hassan or to arrange a speaking engagement, either about leadership or digital marketing trends, please contact Magic Logix's media representative.
About Magic Logix
Headquartered in Dallas, Texas, Magic Logix is a leading global digital marketing agency that drives client business growth by merging creativity, technology and online marketing. Through proprietary client intake, workflow and project management processes, Magic Logix consistently yields top quality results, client satisfaction and long-term relationships. Through continual discovery of new industry best practices and partnerships with industry leaders, Magic Logix delivers world class business expansion solutions to mid-sized to Fortune 500 companies and government agencies. Magic Logix continually ranks internationally in the top ten Web Design, SEO and Web Development firms by Top SEOs, Best Web Design Agencies, Interactive Media, Communicator Awards, Tech 200, is GSA certified and a fast growth company in Inc. 500. Our in-house staff works closely with clients to provide completely customized solutions using the latest technologies, best practices and originally developed approaches to produce top-quality ecommerce solutions, marketing automation tools, custom content management system (CMS) and customer relations management (CRM) integration, and dynamic Web presentations. For more information, please visit http://www.magiclogix.com. Stay connected with Magic Logix on LinkedIn, Facebook and Twitter.