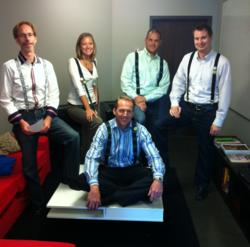 Each year, approximately 18,000 siblings in the United States become 'super siblings' when their brother or sister is diagnosed with cancer.
Minneapolis, MN (PRWEB) September 05, 2012
This September, a group of people in the Twin Cities will wear suspenders to support a global movement called SIBTEMBER. SIBTEMBER is a fundraising initiative that benefits SuperSibs!, an organization that honors, supports and recognizes the brothers and sisters of children with cancer. Just like suspenders offer support, SuperSibs! lifts up these children when their families are going through a very difficult time—the pediatric cancer journey.
RAZR Marketing is leading the SIBTEMBER charge in Minnesota, encouraging employees to wear suspenders every day in September and tell friends and family about the initiative. As the SuperSibs! agency of record, RAZR Marketing has donated over 400 hours of time in 2012 to make SIBTEMBER a success.
"When a child has cancer, everyone in the family suffers--including the siblings," said RAZR Marketing CEO and SuperSibs! Vice Chairman of the Board Darren Nauss. "By wearing suspenders during SIBTEMBER, anyone can make a statement to support these vulnerable children by helping SuperSibs! provide them with more services, smiles and healing."
Each year, approximately 18,000 siblings in the United States become "super siblings" when their brother or sister is diagnosed with cancer. Their families undergo life-altering changes as they deal with the unthinkable challenges of pediatric cancer. Studies show the cancer experience has an intense impact on these children, putting them at greater risk for poor academic achievement, impaired social interactions, guilt, withdrawal, anxiety and jealously. Many of these children even qualify for a diagnosis of post-traumatic stress.
SuperSibs! provides these siblings with support during this critical time, helping them cope with the emotions they experience, sending them care packages and activities to do in the hospital, and above all letting them know that they're not alone as shadow survivors.
Those interested in joining SIBTEMBER, donating to the movement or learning more are encouraged to visit http://www.sibtember.org or contact Emily Shannon with RAZR Marketing at 763.404.6112.
About SuperSibs!
SuperSibs! is a national 501(c)(3) nonprofit organization dedicated to ensuring ongoing comfort, recognition and support to children with brothers and sisters who have cancer. SuperSibs! helps these siblings to redefine the cancer experience to use these life lessons for strength, courage and hope as they move into the future. No longer are these "shadow survivors" forgotten and alone as they battle feelings of fear, insignificance, guilt, helplessness, anger and grief. For more information, visit supersibs.org.
About RAZR Marketing
RAZR Marketing is an agency focused on creating strategic change for its clients. It does this through relevant and creative marketing programs. RAZR's capabilities include marketing strategy, research and insight, brand development, rewards and recognition, event management and more. Additional information about RAZR Marketing and its services can be obtained by visiting the website at razrmarketing.com.