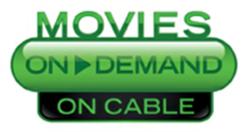 "I like the fact that it's not a routinely formulaic comedy; there are serious undercurrents that give it some substance."
National Harbor, MD (PRWEB) September 05, 2012
REELZCHANNEL's Leonard Maltin, host of "Maltin on Movies" and author of the New York Times bestseller, "Leonard Maltin's 2012 Movie Guide," reviews "The Five-Year Engagement," one of a number of films coming throughout September to Movies on Demand on cable.
"Colorful, supporting characters played by Chris Platt and Alison Brie brighten this leisurely-paced, unusual, but entertaining film," said Maltin. "I like the fact that it's not a routinely formulaic comedy; there are serious undercurrents that give it some substance."
This summer, Movies on Demand on cable has something for every member of the family. Best of all, every movie listed on the menu is always in stock and available instantly, without ever having to leave the home. All it takes is a click of the remote.
Movie lovers searching for other new releases, can access a list of the latest films now playing on Movies on Demand at http://www.rentmoviesondemand.com. Here are some of offerings on Movies on Demand in September:

Safe (started 9.4)—starring Jason Statham and Robert John Burke
The Five-Year Engagement (started 9.4)—starring Jason Segel and Emily Blunt
The Eye of the Storm (starts 9.7, same day as theatrical)—starring Charlotte Rampling and Geoffrey Rush
Fighting Fear (starts 9.10, same day as theatrical)—documentary narrated by Joel Edgerton
3, 2, 1…Frankie Go Boom (starts 9.10, pre-theatrical) – starring Charlie Hunnam, Chris O'Dowd
What to Expect When You're Expecting (starts 9.11)— starring Cameron Diaz and Jennifer Lopez
Snow White & the Huntsman (starts 9.11) – starring Kristen Stewart and Charlize Theron
Girl in Progress (starts 9.11) – starring Eva Mendes and Matthew Modine
October Baby (starts 9.11) – starring Rachel Hendrix and Jason Burkey
Arbitrage (starts 9.14 same day as theatrical) – starring Richard Gere and Susan Sarandon
The Best Exotic Marigold Hotel (starts 9.18) – starring Judi Dench and Bill Nighy
The Cabin in the Woods (starts 9.18) – starring Chris Hemsworth and Bradley Whitford
Katy Perry The Movie Part of Me (starts 9.18) – documentary starring Katy Perry
Hysteria (starts 9.18) – starring Hugh Dancy and Maggie Gyllenhaal
17 Girls (starts 9.21 same day as theatrical) – starring Louise Grinberg and Juliette Darche
Marvel's The Avengers (starts 9.25) – starring Robert Downey, Jr. and Chris Evans
Damsel's in Distress (starts 9.25) – starring Great Gerwig and Adam Brody
About REELZCHANNEL
REELZCHANNEL—TV About Movies® is the only cable and satellite network devoted to delivering entertaining and informative programming that is all about movies, including the celebrities, fashion, music and stories behind the stories. The network is also home to ambitious television events, mini-series and series featuring big stories and big stars as seen with the Emmy®-winning The Kennedys and coming October 17, 2012 with Ken Follett's eight-part mini-series World Without End. With shows featuring movie and entertainment experts, including Leonard Maltin, Richard Roeper and Sam Rubin, viewers get trusted insight into movies wherever they're playing, whether in theaters or at home.
REELZCHANNEL reaches more than 64 million homes on DIRECTV channel 238, Dish Network channel 299, Verizon FiOS TV channel 233, AT&T U-verse channels 799/1799HD and cable systems nationwide. Find REELZCHANNEL in your area by entering your zip code at http://www.reelz.com/watch. Owned by Hubbard Media Group, REELZCHANNEL is headquartered in Albuquerque, NM with national ad sales based out of New York City with offices in Boston, Chicago and Los Angeles and an entertainment bureau in Los Angeles.
For more information, please contact the REELZCHANNEL Media Line
877- REELZTV (733-5988) / pr@reelz.com
About Movies on Demand® On Cable
The Movies on Demand® initiative is an integrated marketing campaign produced by the Cable & Telecommunications Association for Marketing (CTAM) Marketing Co-op. The cable company sponsors include Armstrong, Atlantic Broadband, BendBroadband, Bright House Networks, Comcast, Cox Communications, iO TV, Mediacom, Suddenlink and Time Warner Cable. The studios include 20th Century Fox, Lionsgate, NBCUniversal, Paramount, Relativity, Sony/Columbia, Summit Entertainment, The Walt Disney Studios and Warner Bros. Entertainment, Inc. The initiative is also supported by CTAM corporate partner, iN DEMAND.
For Media Inquiries Contact:
Jason D. King, ABC
Senior Director of Communications & Media Relations
CTAM
301.485.8914
Jason@ctam.com