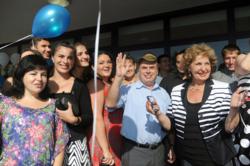 New York, NY (PRWEB) September 06, 2012
The Jewish Agency for Israel has recently facilitated the Aliyah of 40 young immigrant doctors from the former Soviet Union. These doctors will participate in a program, run jointly by the Jewish Agency and the Ministry of Absorption, to fast track their integration into Israel's medical system.
Currently, there are roughly 200 fewer doctors graduating from Israeli medical schools, per year, compared to the country's needs. This program provides intensive Hebrew language instruction and licensing exam preparation. It is one of numerous Jewish Agency initiatives that allow highly-educated and professionally-trained immigrants to continue their careers in Israel with minimal delays. It also illustrates, that through a strong connection with Jews of the Diaspora, Israel can tap the vast pool of talent that exists in the global Jewish family.
At a welcome ceremony this week, Natan Sharansky, The Jewish Agency's Chairman of the Executive, said that the program - which currently assists 100 doctors each year from the former Soviet Union - will soon begin catering to doctors emigrating from Europe and North American immigrant doctors in addition to those from the former Soviet Union.
"When we expand the program to France and the United States, we will bridge the gap," Sharansky said.
During their training period, these doctors and their families will live at Beit Canada in Ashdod, one of 22 Jewish Agency absorption centers that provide subsidized housing, Hebrew language instruction, educational services as well as cultural and social events to nearly 10,000 immigrants a year.
About the Jewish Agency for Israel
Investing in a vibrant Jewish future, The Jewish Agency for Israel continues to address the greatest challenges of our People in every generation. We connect the global Jewish family, bringing Jews to Israel- and Israel to Jews. We build a better society in Israel- and beyond- energizing young Israelis and their worldwide peers to rediscover a collective sense of Jewish purpose. At the same time, The Jewish Agency continues to be the Jewish world's first responder, prepared to rescue and bring Jews home to Israel from countries where they live at-risk. More information can be obtained at http://www.jewishagency.org.