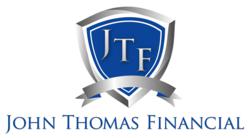 New York, NY (PRWEB) September 06, 2012
John Thomas Financial CEO Thomas Belesis appeared on Fox News live from the Republican National Convention in Tampa, Fl. on August 29, 2012 to discuss the Romney/Ryan ticket with Neil Cavuto. Mr. Belesis served in Tampa as a delegate for the Republican Party.
Belesis, a successful finance executive who also serves as Co-Chairman of the New York State Republican Finance Committee, is a strong supporter of Romney. He tells Cavuto that he believes Mitt Romney is the answer to the last four years of a failed administration. "He's qualified, he's confident and he's caring," said Belesis of the Republican Presidential nominee. Belesis expressed that Romney's excellent track record in the private sector as well as that of his time as Governor of Massachusetts is an indication of the kind of President he will be.
Vice Presidential nominee Paul Ryan and New Jersey Governor Chris Christie spoke from Tampa earlier in the night. "Paul Ryan hit a grand slam. Chris Christie was excellent. The message is clear: we cannot have four more years of this President and this administration," he told Cavuto. "They did inherit a problem, but we have to focus on the solution."
Mr. Belesis appears regularly on broadcast media, including FOX Business News and CNBC, as a panelist and contributing guest on issues regarding finance and the economy as well as national politics. To view clips of Mr. Belesis' appearances on programs such as Bulls & Bears, The Kudlow Report, After the Bell and CNBC's Closing Bell with Maria Baritoromo, visit the John Thomas Financial YouTube channel.
For timely insights, news, and commentary on economics and financial markets, visit the JTF Blog or join the John Thomas Financial community on Twitter and Facebook.
About John Thomas Financial :
John Thomas Financial, a member of FINRA and SIPC, is an independent broker-dealer and investment banking firm headquartered in New York City's Wall Street district. Emphasizing a client-centric approach to managing all aspects of its business, John Thomas Financial and its affiliates offer a full complement of retail brokerage, private wealth management, and corporate advisory services tailored to the unique needs of its clients. The firm publishes the Fiscal Liquidity Index a unique daily indicator that looks at government spending and its impact on the financial markets, The Kaufman Report, a weekly technical stock market analysis, and The John Thomas Financial Economic Outlook, a report analyzing consumer sentiment, market outlook, credit cycles and dozens of other market influences.
Important Disclosures:
The information provided in this publication is for informational purposes only. Investors should consider this report as only a single factor in making their investment decision. This informational report is not an offer to sell or a solicitation to buy any security. This report has been prepared as a matter of general information. It is not intended to be a complete description of any company, and is not an offer to buy or sell any security. All facts and statistics are from sources believed to be reliable, but are not guaranteed as to accuracy. Before acting on the materials herein you should consider whether it is suitable for you particular circumstances and, if necessary seek professional advice investments involve risk and an investor may incur losses. Past performance is no guarantee of future performance. Trading and investment decisions are the sole responsibility of the reader.