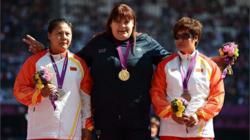 I can now look at life in a positive way because blindness is more a mental condition than physical. This gives me the possibility to go back to live and to feel life
(PRWEB) September 05, 2012
Assunta Legnante won Italy's first Athletics gold of the London Paralympics with a new world record in the Shot Put - F11/12.
The 34-year-old threw 16.74m, equating to 1011 points, to see off the challenge from China's Tang Hongxia.
Legnante competed in non-disabled competition before her eyesight deteriorated, winning European indoor gold in 2007.
'The Assunta of before is not there anymore,' she said. 'It's the blind Assunta now. You start from zero again.
'I can now look at life in a positive way because blindness is more a mental condition than physical. This gives me the possibility to go back to live and to feel life.'
Tang won silver with 12.47m and Zhang Liangmin the bronze.
Kamel Kardjena led an Algeria one-two-three as he retained his Shot Put - F32/33 title.
The 31-year-old threw a Paralympic record 12.14m to comprehensively beat his compatriots Karim Betina and Mounir Bakiri into silver and bronze respectively.
His distance worked out at 997 points, with Betina's 10.37m equating to 976 and Bakiri's 9.49m to 929.
There was yet more medal success for China as Xia Dong threw a world record 17.52m to win the men's Shot Put - F37/38.
The 28-year-old recorded 1018 points to beat Egyptian Ibrahim Ahmed Abdelwareth into silver. Iran's Javad Hardani took the bronze.
Ukraine's Roman Pavlyk claimed gold in the Long Jump - F36.
The 28-year-old leapt out to 5.23m with his fourth attempt to finish ahead of Poland's Mariusz Sobczak, with Russian Vladimir Sviridov taking the bronze.
Cuba's Leonardo Diaz won the Discus - F54/55/56, with Serbia's Drazenko Mitrovic getting silver and Ali Mohammad Yari of Iran the bronze.
For further information please contact the London 2012 Press Office.
###