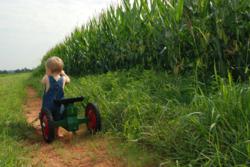 Statesville, NC (PRWEB) September 07, 2012
Amy Wingler of Statesville, NC won first place in the Carolina Farm Credit 2012 photo contest. Her winning photo is of her son, Corbin, with his toy tractor in a corn field.
Second place went to Kelly Bumgarner, Loan Officer in the Carolina Farm Credit Taylorsville Service center for her photo of an old quilt hanging in front of a barn. Sarah McCurdy of Hiddenite, NC for her photo of her son, Zander sitting in a field with Holstein cows.
The contest was judged by website visitors, who were allowed to vote for their three favorite pictures, once a day from June 18 – July 18. All three winners will be featured in the 2013 Carolina Farm Credit photo calendar. Wingler also received a cash prize of $300, and the second and third place winners received $200 and $100.
The winning photos can be seen on the Carolina Farm Credit's website.
The 2013 calendar will also include photos selected from the 29 runners up. In all, more than 330 photos were submitted. This year's collection of rural North Carolina photos includes images of kids on farms, farm animals, farm equipment, scenery, and winter snow.
Carolina Farm Credit is a farmer-owned cooperative providing short, intermediate, and long-term financing to full and part-time farmers and agricultural-related businesses and also provides financing for the construction and purchase of rural homes in 54 counties through 36 service centers. Other financial services available through Carolina Farm Credit are credit life and crop insurance, appraisal services, financial planning, and leasing programs.
Carolina Farm Credit serves over 8,900 members with loans outstanding totaling over $1.28 billion with service centers located in Albemarle, Asheboro, Asheville, Boone, Burnsville, Carthage, Concord, Ellerbe, Graham, Hendersonville, Hillsborough, Jefferson, Lenoir, Lexington, Lincolnton, Marshall, Mocksville, Monroe, Murphy, Newton, Pilot Mountain, Reidsville, Roxboro, Rural Hall, Salisbury, Shelby, Siler City, Sparta, Spindale, Statesville, Taylorsville, Wadesboro, Waynesville, Wilkesboro, Yadkinville, and Yanceyville.
Directors for Carolina Farm Credit are Joseph A. Lail, Chairman, Shelby; Mark A. Bray, Vice-Chairman, Lawsonville; John M. Barnard, Statesville; E. Bernard Beck, Seagrove; W. Rex Bell, Statesville; Herbert R. Cheeks, Hayesville; David M. Coltrane, Pleasant Garden; Susie J. Gambill, Sparta; W. Steve Love, Graham; Bobby J. "Bud" Matthews, East Bend; Clark M. Newlin, Haw River; Thomas E. Porter, Jr., Concord; Tony L. Ragan, Sanford; Lewis E. Smith, Lincolnton; Vickie N. Smitherman, East Bend; L. Kim Starnes, Salisbury; Dr. Alton Thompson, Summerfield.