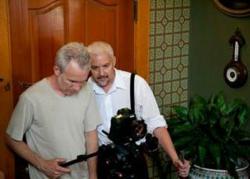 Santa Fe, NM (PRWEB) September 05, 2012
Don Gray, Moving Image Arts Department professor at Santa Fe University of Art and Design (SFUAD), was recently awarded Best Picture for his team's short film, "Where Sheep May Safely Graze," at the Albuquerque division of the 48 Hour Film Project. His team, Trinidad Moustache, also won awards for Best Writing, Best Use of Line and Audience Favorite.
The worldwide competition—which challenges filmmakers to produce a complete short movie in just two days—culminates in March 2013 during the international Filmapalooza weekend in Los Angeles, where Gray's film will be screened and will compete against other winners from more than 120 cities worldwide.
"I'm so proud of my Trinidad Moustache team," said Gray, who served as screenwriter, director and lead actor for the short film. "We decided early on that it was important to tell a really good story, and I am convinced that helped in overcoming our limitations."
To add to the challenge of creating a film in 48 hours, teams had to write their story around a selected genre and include a required character, line of dialogue and prop—all given to them at the start of the competition.
"I tell my students all the time that you can have great lighting effects, you can know what you're doing with the camera, you can have a great location and a great cast—but if you don't have a good story to tell, you won't have a good movie," added Gray. "Without a great story, the other elements don't matter. It all starts with story."
"Where Sheep May Safely Graze" is a detective film about a housekeeper and her son, who one night witnesses a murder. As detectives question the boy about what he saw, they realize he may know more than originally anticipated—and that knowledge brings several dramatic twists.
To watch "Where Sheep May Safely Graze," visit the SFUAD YouTube channel.
Gray is an active filmmaker whose work has played in more than 30 film festivals worldwide. He worked as a location manager on the movie Beerfest and the television series Wildfire and served as a location scout for True Grit, Terminator Salvation and Sunshine Cleaning. Gray also currently serves as the contract locations coordinator for the New Mexico State Film Office. He will be teaching the sophomore-level Introduction to Moving Image Production class at SFUAD this fall.
Other members of the SFUAD community teamed up to produce another short film that won awards in the competition. SFUAD staff member James Green, alumnus Matt Page ('05), and current students Nikki Hall ('13), Taylor Hilburn ('14), and Charlsee Eberly ('15) won Best Sound Design and Best Editing for their film "American Wildlife."
About SFUAD's Moving Image Arts Department:
The Moving Image Arts Department at Santa Fe University of Art and Design offers a comprehensive, hands-on, four-year curriculum that integrates film, video and digital production with critical studies and writing. Films such as True Grit and Cowboys & Aliens and TV dramas such as Longmire have been shot at the university's Garson Studios, where students have the opportunity to intern on professional productions. Garson Studios is part of the Garson Communications Center, which features a 65,000-square-foot production and postproduction facility. The Screen, a popular destination within the Garson Communications Center, shows some of the greatest works of world cinema daily for students and the public.
About Santa Fe University of Art and Design:
Santa Fe University of Art and Design is an accredited institution located in Santa Fe, New Mexico, one of the world's leading centers for art and design. The university offers degrees in arts management, contemporary music, creative writing, digital arts, graphic design, moving image arts (filmmaking and video production), performing arts, photography and studio art. Faculty members are practicing artists who teach students in small groups, following a unique interdisciplinary curriculum that combines hands-on experience with core theory and prepares graduates to become well-rounded, creative, problem-solving professionals. As a Laureate International Universities Center of Excellence in Art, Architecture and Design, the university boasts an international student body and opportunities to study abroad, encouraging students to develop a global perspective on the arts. Santa Fe University of Art and Design is accredited by The Higher Learning Commission and a member of the North Central Association, http://www.ncahlc.org.
# # #