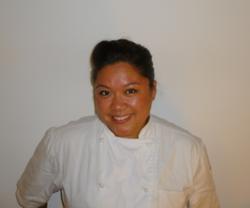 Chicago, IL (PRWEB) September 05, 2012
Pastoral Artisan Cheese, Bread & Wine, one of the nation's most trusted and awarded cheese, wine and specialty food retailers, welcomes Chrissy Camba as the inaugural chef at the new Bar Pastoral—a neighborhood bistro from Pastoral's owners that celebrates the finest culinary producers and their products from around the block and around the world. Most recently executive chef at Vincent and formerly of Home Bistro and Sage in Chicago, Camba is the newest addition to the Pastoral family and a natural fit for Bar Pastoral with her passion for cheeses and specialty food and her ability to expertly pair ingredients together to create flavorful combinations. Over the years Chef Chrissy has formed strong relationships with many local farms and will showcase the bounty of these farms at Bar Pastoral, with a highly seasonal cuisine focused on small production and artisan cheeses, charcuterie, pickling, preserves and other thoughtfully paired accompaniments.
"I've had a love affair with cheese spanning the last decade, and I've always respected all things Pastoral—including the company's mission to make specialty food and drink feel approachable and accessible whether someone feels like a food novice or a food aficionado. When the Bar Pastoral position was announced, I knew I was destined to join the team," commented new Bar Pastoral chef Chrissy Camba. "I'm excited to show Bar Pastoral guests how cheese and charcuterie can work beautifully alongside farm-fresh ingredients and other small batch accompaniments, and I'm thrilled to have the chance to help bring the Pastoral experience to life in this new and exciting way."
Together with Bar Pastoral founders Ken Miller and Greg O'Neill, and alongside general manager Mark Hayes and award-winning cheesemonger Bryan Bland, Chef Chrissy is creating a menu that complements the products for which Pastoral is already known and invites guests to graze on a variety of different hot and cold plates. With a focus on seasonal and local ingredients, Chef Chrissy will incorporate specialties like house-made pates, pickles and substantial plates such as braised veal breast and sliced roasted lamb shoulder with Delicata squash, plus cheese-focused plates like roasted ham with boiled heirloom potatoes and Spring Brook Raclette, beet salad with Challerhocker, and warm Rush Creek Reserve with house-made sausage and crusty baguette. Prices will range from approximately $8 - $18.
"Chrissy possesses that rare combination of experience and accomplishment, paired with endless creativity and passion. She totally gets what we are trying to do at Bar Pastoral and shares our vision to create a sit-down extension of our retail concept and invite folks to experience Pastoral 'in our house' as it were," observed Greg O'Neill, co-founder and co-owner of Bar Pastoral and Pastoral Artisan Cheese, Bread & Wine. "Collaborating with Mark Hayes on beverages and our award-winning cheesemonger Bryan Bland, I'm confident that Chef Chrissy will delight Bar Pastoral guests with a dining experience where the sum is greater than its parts!"
In addition to distinctive cuisine created by Chef Chrissy, Bar Pastoral will also feature an intimate wine and craft beer bar, along with an artisan cheese and charcuterie bar that encourages guests to mix and match offerings with the help of Pastoral's expert staff of culinary professionals. Bryan Bland, third place winner of the international Cheesemonger Invitational held in New York, will oversee the artisan cheese and charcuterie bar at Bar Pastoral. At the 2012 Cheesemonger Invitational, Bryan challenged more than 45 competitors with cheese-focused events including a blind tasting, cheese wrapping and cheese plate design, and will have the opportunity to showcase his expertise daily at Bar Pastoral.
The beverage program at Bar Pastoral will be constructed by general manager Mark Hayes, who also oversees all beverage purchasing and education programs for Pastoral's three retail locations in Chicago and at the company's online store that ships nationwide. Many of the beverage offerings served at Bar Pastoral will also be available for purchase at Pastoral's three shops and online store.
The wine list will equally call on exceptional new world selections as well as indigenous old world grapes and natural wines, and feature 16 by-the-glass pours priced at $10 per glass (also available in half-pours), along with an edited by-the-bottle offering at $50 - $70 per bottle. Guests can expect to discover less visible and hard-to-find small production wines, such as biodynamic selections from Pyramid Valley Winery in New Zealand, Viognier from the horse-tilled Illahe Vineyards in Willamette Valley, top Syrah from Santa Barbara's Tensley Vineyards, and a sparkling wine on tap made exclusively for Bar Pastoral by Michigan's award-winning L. Mawby.
Bar Pastoral will also feature a carefully chosen craft beer list that showcases beer's tremendous ability to pair well with food. Brews from all over the world will rotate frequently to reflect the fast-moving world of craft brewing, the vast spectrum of style and the ability to harmonize beer with cheese. Guests can expect a few beer staples on draft, plus a rotating selection of seasonal brews from benchmark breweries such as Jolly Pumpkin, Stone and Sixpoint ranging in price from $6 - $18.
In place of a full service spirit selection, Bar Pastoral will feature one local distillery on a quarterly basis to offer three craft cocktails from a single distillery. Guests can look forward to collaborations with Koval, FEW, Journeyman and North Shore Distillery alongside Pastoral favorites such as Quince & Apple syrups to create a focused craft cocktail program. Cocktails will start at $10.
"The beverage list at Bar Pastoral will highlight small-scale and sustainably produced wines and brews from all over the world with a 'pairing is paramount' approach, along with delicious and inventive cocktails showcasing some of our best local distilleries," said Mark Hayes, general manager of Bar Pastoral. "The selective, but stylistically vast list is designed to be fun, comforting and yet also challenging. Bar Pastoral's beverage list will balance Pastoral's expansive cheese selection and Chef Camba's cuisine. The list will satiate our most casual and adventurous guests."
Designed by Matt Nardella of Moss Design (2 Sparrows, Flirty Cupcake Dessert Garage), Bar Pastoral's space reflects the rich history of the products it sells—places like the famous food and wine regions of Sonoma, Tuscany and Provence—with an ambiance that feels like an extension of Pastoral's retail shops. With soothing tones, exposed brick and room-defining antiques from near and far, the space design takes cues from ancient cheese and wine making and incorporates elements such as stone, straw and a barrel-vaulted ceiling inspired by the caves traditionally used for aging cheese. The vault, which extends the length of the space, will diffuse delicate ambient light from overhead and give the tall space a more intimate feel. Well-known lighting artist, Ted Harris, is creating custom light fixtures for the space that will reference the authentic dairy heritage of Pastoral's concept.
Since opening its doors in 2004, Pastoral has experienced sustainable growth and now includes three successful stores in Chicago at 2945 North Broadway in East Lakeview, 53 East Lake Street in the Loop and at 131 North Clinton Street in the Chicago French Market. Customers nationwide can also shop 24/7, 365 days per year at Pastoral's new and growing online store at pastoralartisan [dot] com. Beginning with just five employees, national award-winning Pastoral now works with a team of more than 50 employees who are working together to make Pastoral—and now Bar Pastoral—one of the country's best and most trusted nationwide resources for artisan cheeses, specialty wines, craft beer, spirits, small batch accompaniments, educational classes, events, gifts and more.
Bar Pastoral is scheduled to open in October 2012 at 2947 North Broadway, adjacent and connected to Pastoral's East Lakeview shop located at 2945 North Broadway. Bar Pastoral will be open daily with table service in the evenings and weekends starting at 5:00 p.m., plus counter service on weekdays 11:00 a.m. - 4:00 p.m. and late night dining on Fridays and Saturdays. Specific hours and phone number TBD. Bar Pastoral will be available for special private and public events, and will also host educational classes and tastings throughout the year.
For more information on Bar Pastoral and Pastoral Artisan Cheese, Bread & Wine—which recently was named for the second time (2007 and 2012) as one of six Outstanding Specialty Food Retailers by the National Association for the Specialty Food Trade (NASFT)—visit pastoralartisan.com
# # #
BAR PASTORAL (located adjacent and connected to Pastoral's Lakeview location)
2947 North Broadway
Chicago, IL 60657
Phone TBD
Hours: Daily
Counter service, 11:00 a.m. – 4:00 p.m.
Table service, beginning at 5:00 p.m.
Late night dining on Fridays and Saturday, specific hours TBD
PASTORAL LOCATIONS AND HOURS
Pastoral Artisan Cheese, Bread & Wine – Chicago French Market
131 North Clinton Street
Chicago, Illinois 60661
312-454-2200
Hours:
Monday – Friday 10:00 a.m. - 7:30 p.m.
Saturday 10:00 a.m. – 5:30 p.m.
Sunday Closed
Pastoral Artisan Cheese, Bread & Wine – Loop
53 East Lake Street
Chicago, Illinois 60601
312-658-1250
Hours:
Monday – Friday 10:30 a.m. - 8:00 p.m.
Saturday 11:00 a.m. - 7:00 p.m.
Sunday 11:00 a.m. - 6:00 p.m.
Pastoral Artisan Cheese, Bread & Wine – Lakeview
2945 North Broadway
Chicago, Illinois 60657
773-472-4781
Hours:
Monday – Friday 11:00 a.m. - 8:00 p.m.
Saturday 11:00 a.m. - 7:00 p.m.
Sunday 11:00 a.m. - 6:00 p.m.
Shop 24/7, 365 days per year at Pastoral's online store: pastoralartisan.com
About Bar Pastoral™
Bar Pastoral, a venture of Pastoral Enterprises, LLC, is a neighborhood bistro that celebrates the best culinary producers and their products from around the block and around the world. Bar Pastoral is an extension of Pastoral's retail shops and will focus on what Pastoral does best: offering customers perfectly paired artisan cheeses, charcuterie, beverages, accompaniments and more in a warm and approachable atmosphere. Scheduled to open October 2012, Bar Pastoral is located at 2947 North Broadway which is adjacent and connected to Pastoral's original shop at 2945 North Broadway in Chicago's burgeoning East Lakeview neighborhood. For more information, visit pastoralartisan.com
About Pastoral® Artisan Cheese, Bread & Wine
Pastoral, a venture of Pastoral Enterprises, LLC, is a European-inspired, authentic neighborhood cheese shop, offering the highest quality fine and artisan cheeses from America and around the world, select small production wines and freshly baked breads along with a full complement of related items such as charcuterie, olives and other accompaniments. Pastoral also offers custom gift collections, gourmet sandwiches and salads, picnics and catering. The company was founded in 2004 in the East Lakeview area of Chicago and was named in 2012 and 2007 as one of six Outstanding Specialty Food Retailers by the National Association for the Specialty Food Trade (NASFT). For more information or to shop online, visit pastoralartisan.com
Editor's note:
Images and interviews are available. Contact Lauren at 773-655-7743 or lauren(at)sangollc(dot)com