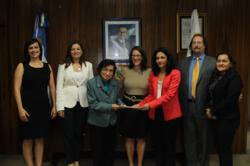 The outcomes of this program will be used as a model to shape cervical cancer prevention programs for millions of women around the globe.
San Salvador, El Salvador (PRWEB) September 20, 2012
On August 16, 2012, representatives from Basic Health International (BHI), QIAGEN and the Salvadoran Ministry of Health announced that El Salvador will be the first country in Latin America and the Caribbean to receive a donation of QIAGEN's rapid HPV-DNA test for low-resource settings, careHPV. This test has been developed for use in the developing world where the availability of running water and electricity is volatile and women have limited access to healthcare services.
Among those present at the press conference were Dr. Sofia Vialta, Director of Sexual and Reproductive Health Programs for the Salvadoran Ministry of Health; Dr. Miriam Cremer, President & Founder of BHI, and Assistant Professor of Obstetrics & Gynecology at the University of Pittsburgh School of Medicine; Dr. Julia Gage, Research Fellow at The National Cancer Institute; Philip Castle, an expert in the field of cervical cancer prevention and BHI consultant; Dr. Mauricio Maza, Medical Director for BHI; and Irma Alfaro, Senior Director of Global Health at QIAGEN.
In April 2009, a landmark study in the New England Journal of Medicine (1) showed that in low-resource settings, a single round of HPV testing significantly reduced the number of advanced cervical cancers and deaths, compared with either Pap testing (cytology) or visual inspection with acetic acid (VIA). This study dramatically highlighted the potential impact of the expanded use of HPV testing in developing countries. El Salvador is one of the first countries providing the female population with this updated screening approach to further improve detection and prevention of cervical cancer.
The QIAGEN donation consists of the assays, samplers, automation and technical expertise necessary to implement a comprehensive cervical cancer prevention program, including 4,000 sampling kits and two instruments donated by QIAGEN through the QIAGENcares donation program. QIAGEN is a leader in the field of human papillomavirus (HPV) DNA diagnostics also providing the Hybrid-Capture-based digene HPV DNA Test.
"In El Salvador, the HPV DNA testing program will be rolled out in 3 phases over the next two years. The first phase will provide screening to 2,000 women, the second 10,000, and the third 18,000 women. At the completion of the three phases, we will have provided life-saving screening to 30,000 women," remarked Miriam Cremer, President & Founder of Basic Health International.
The first two phases will take place in the Departments of San Vicente and Cuscatlán, specifically in the municipalities of Apastepeque, San Sebastián, San Pedro Perulapán and San Rafael Cedros.
"Through this intervention, we hope that we can improve the national cervical cancer screening program. We are excited to have received access to this cutting-edge technology in our country," stated Dr. Mauricio Maza, Medical Director of Basic Health International.
BHI has been working with the Salvadoran government since 2005 to help develop comprehensive cervical cancer prevention policies. "The accuracy and versatility of careHPV even in low-resource settings make this the most exciting advancement in cervical cancer testing," stated Dr. Miriam Cremer. "We are so excited about this program because the results will not only help the women of El Salvador, but the outcomes of this program will be used as a model to shape cervical cancer prevention programs for millions of women around the globe."
Cervical cancer is the third most common cancer in women worldwide. Each year, over 500,000 women globally are diagnosed with cervical cancer and 270,000 women die from this disease. Close to 90% of invasive cervical cancer cases occur in the developing world, and in many countries, including El Salvador, cervical cancer is the leading cause of cancer death among women.
References
1. Sankaranarayanan, R. et al. (2009) HPV screening for cervical cancer in rural India. N. Engl. J. Med. 14, 1385.