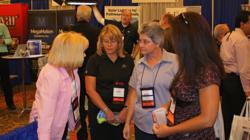 "The referrals by facility managers," according to Don Dominick, VP of Miracle Method Business Development, "have been outstanding because our process works and when one college facility manager has success, they tell others."
Colorado Springs, CO (PRWEB) September 07, 2012
Joining the officers, directors and facility manager members of the Southeastern Region of the APPA, (SRAPPA) at their annual Facility Conference in Lexington, VA, will be Miracle Method Surface Refinishing. Miracle Method's exhibit at the National APPA Conference in Denver in July was a tremendous success and the company is increasing its exhibit commitment to the APPA. The Miracle Method booth attracted representatives from over fifty colleges and university facility directors.
It was the demonstration of the latest surface refinishing technology for tile showers, leaking terrazzo shower pans, cultured marble vanities and laminate countertops that created the most interest. It proved how Miracle Method's refinishing process not only improved the appearance of tile shower pans and walls, but also, effectively sealed the surface against leaks.
Miracle Method has seen a dramatic increase in the number of colleges and universities needing its services, as the process has not only proven to be more affordable, but fast. Miracle Method can put a residence hall bathroom back into service in 24 - 48 hours vs. weeks when replacement is involved. "The referrals by facility managers," according to Don Dominick, VP of Miracle Method Business Development, "have been outstanding because our process works and when one college facility manager has success, they tell others."
Among the recent institutions using Miracle Method's services are the University of Richmond, University of Buffalo, Virginia State, St Louis University, The Principia, The Ohio State University, The University of North Carolina and Western Michigan.
With 126 offices across the US and Canada, Miracle Method can provide its services to virtually any college campus. As an affiliate member of the APPA, Miracle Method attends APPA's national conference, and select regional events as well. To learn more about Miracle Method and to read case studies, log on to http://www.miraclemethod.com/collegehousing, or call 800 444-8827.