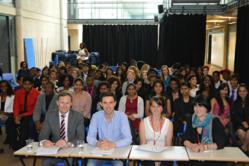 "When I was asked to be a part of The Challenge I was delighted to give my time to a project helping young people develop skills and take part in an activity which would help them with their future careers both academically and professiona
(PRWEB UK) 7 September 2012
The Challenge is an initiative empowering young children to believe that they can achieve anything they put their minds to. For two and a half weeks, young people aged between 15 and 17 years of age, embark on a personal development adventure consisting of three challenges. The participants develop a wide range of transferable skills, such as team work, leadership and management skills, during the course of the two and a half weeks. At the end of the programme the teams create, plan and pitch a campaign about issues affecting their local area to a panel of local business men or women, local MP's. This year Dan Taylor, founder of The Giving Card was on the panel of "dragons"; helping young people to refine their campaign ideas.
The first of the three challenges is a Personal Challenge; encouraging team building, team work and leadership skills during the course of the five day outdoor activities. These skills are then needed and built upon in the next challenge; the team challenge. Teams work together to create a piece of work, which could be running your own coaching sessions, creating a short film or writing a performing their own play and showcase their idea or work to their peers. The main goal of this challenge is to build on their management skills, of themselves others and their time. The final challenge is to come up with a campaign addressing issues in their local area as well as to plan and pitch their ideas to a group of local businessmen or MP's, in a quest for funding. They then take their campaign out into the real world in an attempt to drum up interest in their campaign.
The Giving Card's Dan Taylor was highly impressed with the amount of thought, preparation and creativity that went into the campaign ideas generated as well as the clearly demonstrated skill and confidence in pitching displayed by the young people. When asked about his experience working with The Challenge Dan Taylor said "When I was asked to be a part of The Challenge I was delighted to give my time to a project helping young people develop skills and take part in an activity which would help them with their future careers both academically and professionally." The Challenge is a valuable experience for all young teenagers' about to go to college or into work, providing them with skills that will last a lifetime.
For press information and images contact Catriona Pickard (Tel: 07785627460 or email catriona.pickard(at)the-challenge(dot)org) at The Challenge Network or Roxanne Swan at The Giving Card (email: Roxanne(at)thegivingcard(dot)co(dot)uk)
Notes to editors:
About The Giving Card
The Giving Card is the UK's number one discount card, linked to charitable giving. It is a point of sale card, giving members discounts on several different categories both locally and nationwide (website: http://www.thegivingcard.co.uk).
About The Challenge Network
1. The Challenge Network (TCN) is an independent registered charity (no. 1129239) established in April 2009 with offices in London, Birmingham and Manchester.
2. TCN's mission is to connect and inspire people to strengthen their communities.
3. This year 10,000 young people will take part in The Challenge across all London boroughs, Surrey, Birmingham and the West Midlands, Greater Manchester and Lancashire.
4. 'The Challenge' is a four part programme:

Personal Challenge: Through intense outdoor activities such as abseiling and raft building participants are challenged to bond as a team, overcome their fears, and build confidence and self-awareness.
Team Challenge: Teams are challenged to learn a new skill (enterprise, photography, sport, drama, or media) and use it to build relationships with their local community.
Real Challenge Design: Teams design a sponsored activity to fundraise for a local charity and a campaign on a local issue they care about. They also work with a community partner, visit a professional workplace, and pitch to a panel of 'dragons' for project funding.
Real Challenge Action: Teams reunite in September for four weekends. They carry out their sponsorship and campaign projects, take part in a practical project designed by their charity partner and join a large scale social action day.
5. Real Challenge Action is sponsored by the Big Lottery Fund.
6. Graduates join 'The Challenge Society' to ensure the journey of personal development and community action doesn't end after the summer.
7. Supporters of The Challenge Society include BAA Communities Trust and the Social Action Fund.
8. For more information about The Challenge, visit http://www.the-challenge.org
About National Citizen Service (NCS)
1. NCS promotes:
a more cohesive society by mixing participants from different backgrounds;
a more responsible society by supporting young people's transition into adulthood; and
a more engaged society by enabling young people to work together to create social action projects in their local communities.
It brings young people together from different backgrounds (e.g. religious, ethnic and socio-economic) to work together, and teaches them what it means to be responsible and serve their communities.
2. This year 30,000 NCS places are available and the long-term aim is for NCS to be available to every 16 and 17-year-old. There will be 90,000 places by 2014.
For more information about NCS visit http://www.direct.gov.uk/ncs
Cabinet Office Press Office,
70 Whitehall LONDON,
SW1A 2WH
0207 276 0393
http://www.cabinetoffice.gov.uk