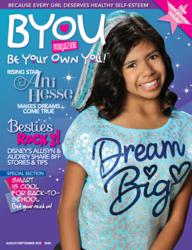 Denver, CO (PRWEB) September 05, 2012
Girls around the country will be armed with an additional dose of healthy self-esteem for back-to-school as a new publication hits bookstores nationwide this month. BYOU "Be Your Own You" Magazine is the newest kid in town of publications targeting 'tween' girls ages 8-14, with a mission to build self-esteem in girls in fun and powerful ways.
BYOU "Be Your Own You" Magazine features positive celebrity role models, 'real' girls making a difference, and informative articles to help navigate distressing issues girls face today such as bullying, friendships, peer pressure, and body image. It also gives girls opportunities to be featured themselves and entertains with games, contests, giveaways and more – all with the objective of building self-esteem in the tween reader in fun ways. The magazine is teamed with popular celebrities Disney's "So Random" Allisyn Arm and Audrey Whitby, Dove partner singer Jessica Jarrell, and Nickelodeon's "How To Rock" Cymphonique Miller, along with many other role models who are positive influences.
According to Founder and Publisher Debra Gano, herself a mom to a 10-year-old girl, few resources exist for girls in this vulnerable age group. "These are very formative years for girls," says Gano, "and much of what they are exposed to simply is not healthy. Girls today are bombarded with unrealistic standards of beauty and pressures to fit in. The amount of technology available 24/7 can cause a girl to 'grow up' before she is emotionally mature enough to discern the level of information coming at her, and thus is susceptible to making unwise decisions. With an estimated 90% of girls today suffering from low self-esteem, our intention is to give them the freedom to be themselves, to know their value, and to inspire them to not only make their own lives more fulfilling and joyful, but to make the world a better place as well." Gano speaks nationally on self-esteem issues and is the best-selling "Mom's Choice" Gold Award author of the
Heartlight Girls book, Beauty's Secret: A Girl's Discovery of Inner Beauty.
The back-to-school issue of BYOU "Be Your Own You" Magazine features the themes "Smart is Cool" (encouraging kids not to 'dumb down' to fit in), making friends not 'frenemies' this school year, and tips to follow your dreams to achieve the best year yet. It is available in bookstores nationwide, including Barnes & Nobles, or at http://www.BYOUmagazine.com. The magazine's message is reinforced with Be Your Own You positive-messaging apparel and products available at http://www.BeYourOwnYou.com.
Founder & Publisher Debra Gano is available for media interviews and speaking engagements. Please call (855) BYOU-MAG (296-8624) for more information.