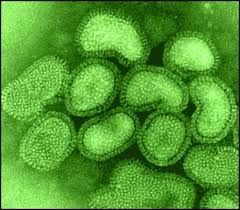 Bad Honnef, Germany (PRWEB) September 06, 2012
The aim of the Natural Sciences Bibliographic Web Portal including its two new Necrosis and Pathogen References sections is to provide comprehensive bibliographic information on the basic and applied life, earth and health sciences. The information contains a minimum of bibliographic information consisting of title, authors, publication year and source while expanded references provide an additional summary of the publication's scientific content. All references are grouped into eleven main sections which are subdivided into ten categories each. The site as well as every section and category provides RSS feeds alerting the site's users of newly published content. Every bibliographic reference is tagged with up to twenty scientific keywords which cross-connects them beyond sections and categories.
The section Bacteria contains information on these unicellular microorganisms. Bacteria lack organelles and an organized nucleus and many of them can cause disease. The latest content in this category is also available through a Bacteria RSS feed. The section currently contains circa 7,580 posts and is subdivided into ten categories including Bacillus, Lipopolysaccharide, Muscle, Necrosis, Pathogen, Plasmid, Pneumoniae, Pseudomonas, Streptococcus and Vaginosis.
Within this section, the category Necrosis contains information on the death of most or all of the cells in an organ or tissue due to disease, injury, or failure of the blood supply. During the progress of necrosis cells swell, their plasma membranes become disrupted, and the cell contents are released into the extracellular space, where they often trigger an inflammatory response. The category currently contains circa 70 posts of which the latest inclusions are also available through a Necrosis RSS feed. It features a post on the comparative stability of two salmonid viruses pancreatic necrosis and haematopoietic necrosis viruses and poliovirus in fresh, estuarine and marine waters. Other bibliographic resources cover diseases of citrus trees, bacterial necrosis of grapevine and the severity of bacterial rind necrosis in watermelon cultivars in Florida.
The new category Pathogen covers bacteria, viruses, or other microorganism that are agents of and can cause disease. While most pathogens are infectious microbes, such as bacteria or viruses, other parasites, such as fungi and protozoans, are also considered pathogens. Since not all microbes are harmful, pathogens refer specifically to those that can cause disease. The latest content in this category is also available through a Pathogen RSS feed. The category currently contains circa 410 posts of which the latest inclusions are also available through a Pathogen RSS feed. It features a reference covering the ecology of Xanthomonas campestris pv. juglandis on Persian (English) walnuts and one on early proliferation and migration and subsequent xylem occlusion by Erwinia amylovora and the fate of its extracellular polysaccharide (EPS) in apple shoots. It also presents a post on detection of Xanthomonas campestris pv. manihotis, pathogen of cassava decline in the Ivory Coast, one on comparative laboratory studies on three fungal pathogens of the elm bark beetle Scolytus scolytus: effect of temperature and humidity on infection by Beauveria bassiana, Metarhizium anisopliae, and Paecilomyces farinosus, and a post on biotic efficiency of Bacillus thuringiensis Berl. and a nuclear-polyhedrosis virus on larvae of the American bollworm, Heliothis armigera Hbn. (Lepid., Noctuidae).
While the publishers of the web portal have a stock of 21,238,124 references of which 10,564,269 (50%) contain a summary, this information will be made successively available to the public until 2014. While the site has presently published a total of 750,000 posts online, the number of published bibliographic resources increases by circa 20,000 items every day. This status is reflected in the site's continuously updated tagline.