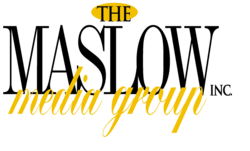 "Being honored by Inc. makes me flash back to the days when I was a freelancer pounding the pavement and looking for someone to help me find the next gig. That is what it's all about and why I created the Maslow Media Group," Linda Maslow
Washington, DC (PRWEB) September 06, 2012
Maslow Media Group is honored to be named to the Inc. 5000 list for the fastest growing privately held companies in the country. Since its first inclusion on the Inc. 500 list in 1997, Maslow Media Group has made the Inc. 5000 list five times. On this year's list, Maslow Media Group is the 9th largest Washington, DC based company (by revenue) and 51st largest Human Resources company in the country (by revenue).
Linda Maslow formed Maslow Media Group in 1988 as the nation's first full-service video production, crewing, staffing and payroll services company headquartered in Washington, DC.
As a tough and independent producer, Ms. Maslow drew from her on-the-ground experience and production knowledge to turn an entrepreneurial dream into a worldwide network of thousands of freelancers. Geared towards corporate media, government agencies and video production companies, the company is now one of the largest woman-owned film and television companies in the world.
"Being honored by Inc. makes me flash back to the days when I was a freelancer pounding the pavement and looking for someone to help me find the next gig. That is what it's all about and why I created the Maslow Media Group," says Ms. Maslow. "It is a tremendous honor to be included in the Inc. 5000 list and to have served such an amazing group of talented creative professionals and clients."
Prompted by her uncle Abraham Maslow's "Hierarchy of Needs," Ms. Maslow infuses her business model with a management philosophy grounded in its freelancers' creative success. "I remember him as Uncle Abe, but as I have grown older his theories have been fundamental in Maslow Media's growth and approach. Take care of your people and they will take care of you."
Her initial goal of helping fellow film and television professionals find work soon evolved into a worldwide production management company dedicated to producing and creating the finest quality product for its clients. "It really is a humbling achievement to think of how far we have come," says Ms. Maslow. "And we would like to thank Inc. for honoring and recognizing Maslow and our people for the fifth time."
About The Maslow Media Group
Named a "Top 5 Leading Payroll Company" by The Hollywood Reporter and the #1 Media Production Company for 2012 by the Washington Business Journal, the Maslow Media Group provides crews worldwide, video production staffing, payroll services and script to screen video production to corporations, government agencies, corporate media, cable networks, and production companies nationwide. The Maslow Media Group is a successful, WBENC-certified corporation based in Washington, D.C., since 1988. They oversee several contracts in excess of $26 million dollars. Government clients find them on GSA Schedule #541 for Advertising & Integrated Marketing Solutions.
About Inc.
Founded in 1979 and acquired in 2005 by Mansueto Ventures, Inc. is the only major brand dedicated exclusively to owners and managers of growing private companies, with the aim to deliver real solutions for today's innovative company builders. Total monthly audience reach for the brand has grown significantly from 2,000,000 in 2010 to over 6,000,000 today. For more information, visit http://www.inc.com.
Methodology
The 2012 Inc. 500|5000 is ranked according to percentage revenue growth when comparing 2008 to 2011. To qualify, companies must have been founded and generating revenue by March 31, 2008. They had to be U.S.-based, privately held, for profit, and independent -- not subsidiaries or divisions of other companies -- as of December 31, 2011. (Since then, a number of companies on the list have gone public or been acquired.) The minimum revenue required for 2008 is $100,000; the minimum for 2011 is $2 million. As always, Inc. reserves the right to decline applicants for subjective reasons. Companies on the Inc. 500 are featured in Inc.'s September issue. They represent the top tier of the Inc. 5000, which can be found at http://www.inc.com/500